A radio play adaptation of Oscar Wilde's ghost story marks a strong start to Open-Door Playhouse's first season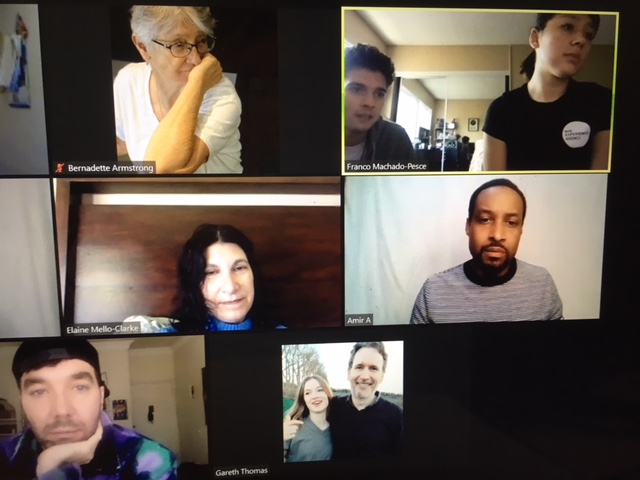 As the pandemic continues, so does non-traditional theatre. Or, in the case of new podcast producer Open-Door Playhouse, reworking traditional entertainment methods for an unprecedented time. For their first production, the audio theatre troupe presents a joint effort between Open-Door Playhouse Theatre (based in California), and Our Kid and Me Productions (based in the UK)--a radio play adaptation of Oscar Wilde's "The Canterville Ghost."
Adapted by Bernadette Armstrong, John Hunter, and David Hunter, this entertaining ghost story follows an American family who've just purchased an old English manor house. But when they discover a blood stain in the library and learn that the house is haunted, it seems they may have gotten more than they bargained for. Still, this is a modern American family and they don't believe in that nonsense about ghosts and hauntings. While the father and his sons set up elaborate traps for their nightly visitor and take scientific notes on the reappearing blood stain in the library, the daughter Virginia heads off to have her own talk with the ghost of Sir Simon de Canterville.
This isn't a terrifying tale meant to send shivers down your spine; it's a fun story about what happens when the old world meets the new, complete with a gently heartwarming ending. While the story itself feels a bit disjointed, as if the author couldn't quite decide which direction he wanted it to take, it's full of pleasant surprises and makes for a very entertaining 47 minutes. Standout cast members include Gareth Thomas, gentlemanly and apprehensive as Lord Canterville; and Jennie Cosgrave as the anxious housekeeper Mrs. Umney. As Sir Simon de Canterville, John Hunter also gives a good performance, playing a ghost who's not so much diabolical as he is just tired of haunting people.
As in any good radio play, there are great sound effects: clanking chains being dragged across the hall in the middle of the night, thunder ominously foreshadowing what's to come, and since we're in England, plenty of rain. Despite being an auditory experience, the scene is set with plenty of detail that makes it easy to visualize; and the comings and goings, actions, and pauses are all well-defined. The track has also been well-edited, with no jarring transitions or radical volume changes. On the contrary, it's a very smooth, even production.
While it's by no means perfect, Open-Door Playhouse's first production, The Canterville Ghost marks a strong start to what will undoubtedly be a fun new platform for playwrights and artists alike.