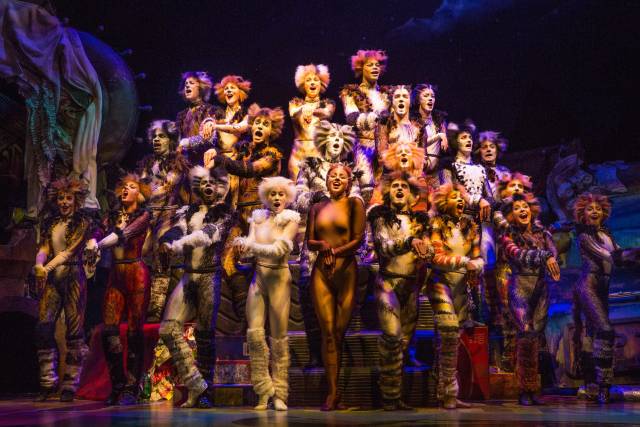 In a world that trades in nostalgia and where everything old is new again, it makes sense to see Andrew Lloyd Webber's Cats come back to Broadway. The show ran in New York from 1982 to 2000 shattering records and amassing equal amounts of adoration and disdain; for every person who worships at its furry altar, there is someone who is so allergic to the show that not even all of the world's Zyrtec could make them immune. Fans of the musical will be happy to learn that very little has been altered from the production they grew up loving, and new audience members will be either perplexed or rejoiced at the fact that they will be able to experience almost the same show people saw more than 30 years ago. What's surprising is that for all of its familiarity, the show's sincerity makes it unexpectedly relevant in terms of sociopolitical content. It's simply the perfect musical for 2016.
Those who found it aesthetically objectionable in 1982 will cringe at the idea of more of the same leotards, leg warmers and excessive makeup, after all John Napier is back as scenic and costume designer. But in his by the numbers throwback Napier has perfectly captured hipster culture with their idea of faux-fur-trimmed jackets as acceptable nightwear, and tights and neon makeup as the best means of personal expression. Not to mention Lloyd Webber's synth-and-thump-thump-infused score predates the electro-dance and dubstep movements. Bringing up how the DIY-ness of the junkyard where the musical's ball takes place is so reminiscent of alternative bars in Brooklyn would only be rubbing salt on the wound. Cats predicted hipsters before they were cool.
The plotless nature of the show also makes it perfect for YouTube. The vignettes in which the cats teach us about their habits and social structure are self-contained and could therefore achieve viral status in social networks. Since they are so stylishly choreographed by Andy Blankenbuehler, who took on the work by Gillian Lynne and infused it with energetic, urban moves, one could even suggest memes would be in order in which the cats leaped across the air to the beats of Drake or Beyoncé.
Cats also alludes to the sexism that prevailed in the 80s and is still relevant. Here we see Grizabella (played by Leona Lewis), a former glamour cat who has been expelled from the community, beg her way back as the younger cats hiss every time she shows up. We never learn of the reasons why she was sent away, was it self-exclusion, slut-shaming, did she commit a crime, or did she simply age? Lewis, who is merely 31 (Betty Buckley was 35 when she played her in 1982) looks far from "run down", making the sexism among the cats all the more infuriating. The cats however have no problem revering Old Deuteronomy (a wonderful Quentin Earl Darrington), but why would they, he's male.
Perhaps most surprising of all is how prescient Cats seems in the aftermath of Brexit. For starters the show's central ball, in which the cats reunite to pick the rebirth of one of their own, feels just like a referendum in which creatures filled with bias get to exercise democracy without thinking about the outcome of their decision on the world they inhabit. This is made all the more relevant by the junk that surrounds them and which they don't seem to notice. Pieces of scrap metal, empty cans of food, Adidas tennis shoes, and myriad other emblems of consumerism which threaten to collapse and drown them, but to which they remain impervious as they sing and dance in their populist ball.
It's pure heartbreak then to see Grizabella, who can very well represent the Brexit outcasts - victims of racial and religious intolerance - and also the once glorious England trying to make its way back into the world, sing the emblematic "Memory", a song which Lewis fills with longing, guilt and sorrow (she aces that "touch me") Old Deuteronomy grants Grizabella her afterlife dream, but will England see the same fate? That Grizabella's tale of loss and redemption is so similar to those Lloyd Webber explored in Evita, Sunset Blvd. and Jesus Christ Superstar, all of which feature controversial idealists who succumb to the status quo, is something else to think about.
So when someone tries to tell you that Cats is old fashioned or too campy for its own good, prove to them how the show is now a classic that was ahead of its time. Whether its political relevance is serendipitous or not, whether its fashions will go out of style as hipsters and 80s' lovers age, or whether audiences will outgrow the need for digestible clips and crave complex dramas is something that only time will prove. In the meantime we can bask in the memory that's never been more fresh, because hey who doesn't love to see cats doing cute stuff?