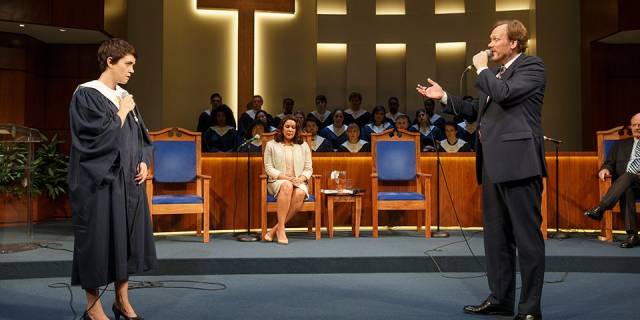 In The Christians, playwright Lucas Hnath's self proclaimed "big-little play about faith in America," now onstage at Playwrights Horizons, opposing theological and ideological structures that shape our society are given an achingly human face.
Theatergoers enter to find themselves face to face with a set that unsettlingly (especially for those of us lapsed church-goers in the audience) resembles a church, with a simple, illuminated birch cross presiding overhead and widescreen televisions and microphones adorning the altar to help carry the word to the invisible thousands in attendance. The master of ceremonies is Pastor Paul, ushered in by a hand-clapping gospel choir, happily flanked by his wife, Elizabeth, associate pastor, Joshua, and a church elder. The service starts in celebration, as Paul marks the progress of the church, from a humble storefront to a debt-free congregation housed in a million dollar church of their own, thousands strong. But the sermon he then preaches, though simple, is radical -- our congregation no longer believes in hell. At first, the reaction from the congregation is a mere ripple; associate pastor Joshua challenges his humanist deviation from doctrine and leaves with about 50. Yet as the play continues, and Paul is increasingly asked to defend his action, he is faced with the creeping realization that his altruistic and divinely inspired revelation may cost him everything -- from his church to his family.
The Christians is a moving and rhetorically intricate rumination on the self-righteous and tragically divisive nature of belief systems. On a meta-theatrical level, Hnath plays on the inherent similarities of church and theater, but doesn't let a liberal New York audience rest smugly on their ideological laurels, forcing us to see the varying human motivations that push us to rely on doctrine. Emily Donahoe is insidiously conflicted as congregant Jenny, "testifying" to Paul and his waning flock. I'm trying to support you, she begins, voice wavering and feet shuffling nervously behind the podium, but if there is no punishment for those who do wrong, why should we do good? Why should we go to church?
Some characters quirks, intended, I believe, to inject some lightness into the play, miss their mark a bit and come off as inappropriate rather than irreverent amidst heady contemplation; as associate pastor, Larry Powell has moments of ferocity, but is occasionally hard to pin down. However, Andrew Garman is endlessly captivating as Paul, the eye of the storm, who in his feverish determination has acted unilaterally, and forgot his own wife, played stormily by Linda Powell, who loves her husband but questions her ability to follow him in his new path.
Hnath and director Les Waters ask us not only what builds the foundations of a religion, from the word of the bible to the finances and taxes, but how far we will go and what we will sacrifice on faith alone. Paul represents the contradictory instance of a man overcome with both greatest conviction and strongest doubt, failing to justify his words until he begins to tangle and trip over the very microphone cords that amplify his own power and voice.