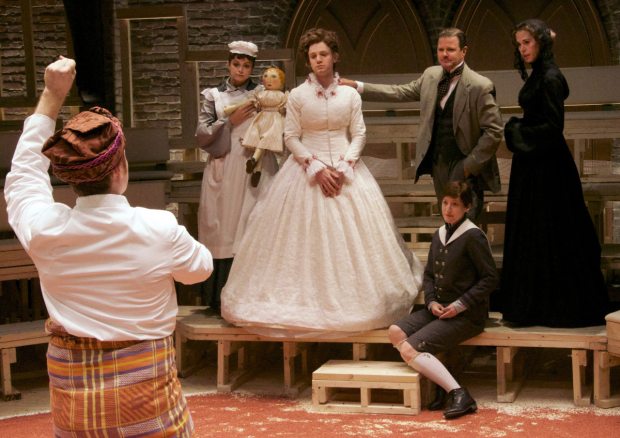 Between the colonial and the carnal, there is much that is shared; amongst them, brutality, oppression, lust and debatable boundaries. In the case of Atlantic Theater Company's production of Caryl Churchill's Cloud Nine, performed in the round (set-designed by Dane Laffrey) and surrounded by purpose-built, narrow, knee-chafing bench spaces, the audience run the risk of being as visibly voyeuristic as some of the play's characters.
Clive, a British bureaucrat stationed in an African colony of Queen Victoria's roomy Empire, instructs his Terry Thomas type veneer of caddish pride to resist the increasing instability of his domain. Besides an uprising amongst the natives, his family and his staff harbor secret passions and sexual preferences that send the "Empire is one big family" dictum rump over crown.  Ellen, the governess, is in love with Clive's wife Betty, whose mother Maud has her under merciless surveillance.  Betty is in love with the cavalier explorer Mr. Bagley, as is her son, Edward, whose baby sister Victoria is played by a doll.  Mr. Bagley will have a go at just about anything while Clive himself can't keep his hands off the conscientious widow Mrs. Saunders.  Clive had better be careful as his fiendish manservant Joshua is even more observant than his mother-in-law.  Chris Perfetti as Clive's long suffering wife Betty carries a delicate regality which befits an amenable Victorian woman trapped by expectation and protocol. She wistfully declares, "I don't think Mother is on a visit. I think she lives with us."
The bedroom farce of Act I gives way to the versatile attitudes of London in 1979 (just twenty-five years have passed for the characters who reappear in the second half), where Old Queenie is long dead but her namesake, Victoria Station, is much more than a transport hub for cruising Gerry, the gay lover of Betty's grown-up son Edward.  Betty's daughter Victoria distances herself from her husband Martin and embarks on a relationship with lesbian Lin, whom she shares with her brother Edward. Here, incest is merely a footnote to free love. The Betty of 1979 is now a single woman whose fonder memories recollect stolen moments of masturbation. Making the effort to understand all that she has missed, she pursues a closer proximity with her offspring.
St Peter's Episcopal Church may not seem like the obvious venue for Caryl Churchill's sex and gender politics satire Cloud Nine, last seen in New York in the early 1980s where it ran for over two years, but given that Act I relishes in the manufacturing of 'keeping up appearances', it is entirely appropriate. The parish hall space is now the Linda Gross Theater, one of the two venues operated by Atlantic Theater Company, founded in 1985 by William H. Macy, David Mamet and thirty of their NYU students.
The accuracy of cut-glass English and regional London accents may waver occasionally but by and large, the character and gender swapping cast (Brooke Bloom, Sean Dugan, Lucy Owen, Chris Perfetti, John Sanders, Izzie Steele and Clarke Thorell) capture the burdens of empire and the permissive levity required by the play's two halves.  Director James MacDonald, a stalwart ally of Caryl Churchill's work, has the Cloud Nine pace merrily galloping the round while the play itself, first performed in 1979, is a punctual reminder of what bad history can breed.