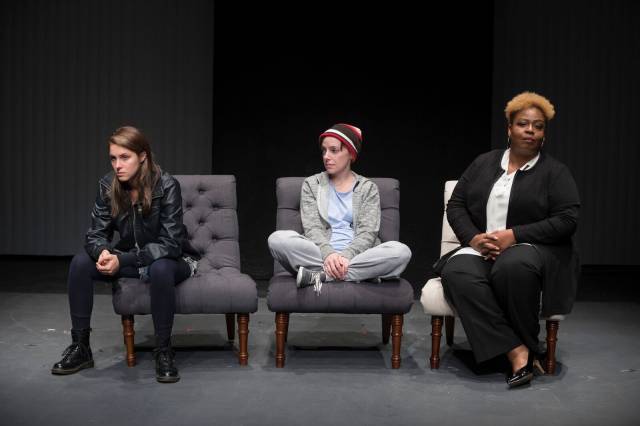 Obie Award-winning Canadian playwright Daniel MacIvor doesn't disappoint in Communion, now having its American premiere at Urban Stages. In this compelling and moving drama we are witnesses to the lives of three women, each in a various stage of both exposed and metaphysical discomfort: Leda (Stephanie Cozart), a recovering alcoholic; her once drug-addicted, now born-again Christian daughter, Ann (Jackie Hansen), with whom Leda is hoping to reconnect; and Leda's therapist, Carolyn (Erica Bradshaw), who is going through her own life-changing turmoil.
Enough cannot be said about all three cast members who are absolutely outstanding in their flawless performances. All three have nurtured and connected with their characters so fully that while observing and absorbing their present-day personas conveyed in the play, we can clearly see each character's back story and history of who they used to be. Credit for this theatrical phenomenon of course goes also to MacIvor's unwavering script and thoughtful direction. The canvas to the production, playing the unspoken characters in this play, are a smartly designed set by Frank J Oliva and the mood-shifting lighting by Deborah Constantine. Light and set complemented each other well, offering a clever backdrop that helped to immerse us in the scenario and emotion taking place.
The temptation to be overly dramatic and large in expression is thankfully not given into here despite the weight of the material and circumstances, which serves both the actors and the play well. The quieter moments of the play are just as powerful and engrossing as the loud ones. Natural language, realistic situations and captivating plot culminate in an effective production full of interesting unveilings, repressed anger and hurt, and the all-too-familiar pressures of familial bonding.
Communion offers up the question of whether some bonds are just too broken to be mended. Through the exploration of this theme in this talent-packed, spectacular show, everyone ultimately finds more answers to the question they originally asked.