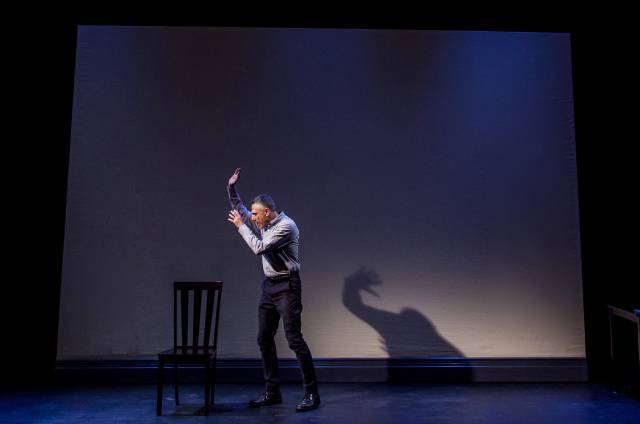 As a theatregoer, you know when you are in good hands and when you are not. Within minutes of any live performance, a reading-of-the-minds takes place, from spectator to performer. If the player is incompetent, we know it right away-we are in for a bumbling journey. If the performer is solid in the ability to navigate our journey, we relax and settle in eagerly.
In the first two minutes of David Greenspan's self-conceived one-man show, Composition…Master-pieces…Identity, produced by the Target Margin Theatre Company, I thought, "Oh dear. I don't know about this one. He's just sitting there, talking." Then, by the third minute I thought, "Hmm…I'm oddly entertained, even intrigued." By the fifth minute, I was fully engaged. He sat in a plain wooden chair, wearing contemporary, business-casual attire and talked to the audience. This sounds boring. Checking in mentally with Greenspan, I quickly realized I was in good hands.
David Greenspan was sitting in the chair, but he was not sitting in the chair (to string a circular repeat of words in my one stab at Gertrude Stein's writing style). I quickly realized I had the pleasure, or the punishment, of traveling back in time to a Gertrude Stein lecture given at the Cambridge Literary Club at Oxford University, summer of 1926. A fan of hers or not, I was face-to-face with the woman herself.
To choose a figure from history, memorize various lectures/essays/plays of said figure, and then step into her shoes without theatrical trappings, seems too simplistic, even naïve. To eschew costumes, props, scenery and metaphor -- the tools, it is often thought, required to transport an audience, and in such a charmingly grand theatre -- well, it just straddles barbarianism. You know what though? It works.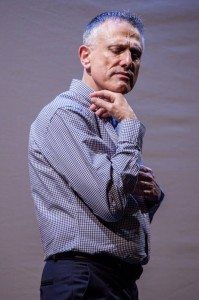 Greenspan blends a natural, lively and layered quality to his interpretation of art collector, art muse, philosopher, novelist, outspoken lesbian Gertrude Stein. He invests with equal measure his physical being and his emotions. Never moving without intention, he is constantly connected to his lines. Even in the final section, Identity, his abstract movement reminds one of a modern dancer; abstract, yet meaningful.
Tláloc López-Watermann's lighting design deserves praise as well. His lighting dances from the brightness of a lecture hall to the moody incarnation of an avant-garde Def Poetry Jam, full of shadows. He keeps the stage as lively and alert as the subject, without making a big deal of lighting.
David Greenspan thought we would like to hear Gertrude Stein talk. As she wrote, "Talking has nothing to do with creation. Talking is really human nature as it is and human nature has nothing to do with master-pieces." Her writings, however wrought with hypocrisy and illogical, deserve a platform and an audience. The power of Greenspan's Compositions…Master-pieces…Identity lies in the experience it affords us of hearing Gertrude Stein talk in person, and against the backdrop of her philosophies, find our own.