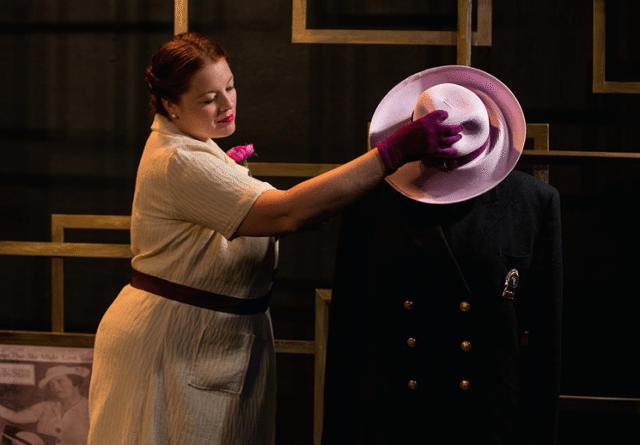 The captivating true story about New York City's own "dead shot" Mary Shanley, who eventually became a first grade detective of the NYPD with over 1,000 arrests under her belt, is now brought to life on the stage at The Bridge Theater at Shetler Studios.
This unassuming, frumpy lady singlehandedly apprehended jewel thieves and muggers during her decorated career that spanned the years from 1931 to 1957. Shanley was even a favorite of Manhattan's Macy's department store, frequently working undercover and arresting would-be pick-pockets. She once escorted Princess Grace Kelly along 5th Avenue, and was honored by Mayor LaGuardia.
Rachel McPhee gives a remarkable and transcendent performance as Mary Shanley, completely embodying the brash and no-frills gutsy woman who defied the norm to become one of the most famous female law enforcement employees. McPhee was born to play this role; she holds nothing back, she is bare and honest and completely captivating to watch. A wonderful actress with superior control and ownership of her stage, she tenderly brings to the forefront a real insight into Shanley's upbringing and childhood hardships, and what it was like to be a strong, rough-around-the-edges, brave woman in the 1930's.
The script, written by Robert K. Benson, is both thoughtful and relevant. Benson delves past the research he has done to find the true woman inside the media-darling of the 1930's, bringing us a meaningful, touching, and fascinating account of what Mary Shanley's life was really like. The set (lovingly and cleverly designed by Kyu Shin) is decorated with copies of actual newspaper articles with photos of the first grade detective herself. One could not help but notice the similarities between the image in the faded headlines and that of McPhee, who nails Shanley's body language and mannerisms so convincingly that we are made to believe that we are bearing witness to Shanley's escapades in real-time. Accolades to costume designer Peri Grabin Leong must be extended on the dress and accessories worn by McPhee, matching her muse almost identically. Experienced director Stephen Kaliski was certainly handed a gift with the talent he had in McPhee, and he makes excellent use of her abilities and the stage to bring us well-balanced moments.
Dead Shot Mary is fascinating, entertaining and even funny in moments, while also being absolutely riveting and moving. This is "must-see" theater at its best.