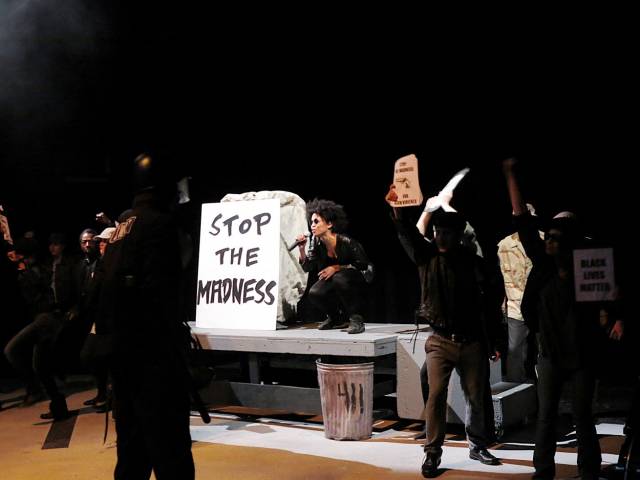 The audience gets a little uncomfortable during The Death of a Black Man (A Walk By) at Theatre for a New City, which is appropriate as the immersive play by Emmy Award-winning writer Ian Ellis James (aka William Electric Black) deals with the very uncomfortable and controversial subject of gun violence. The statistics (emblazoned on a giant screen as the audience walks in) are staggering: gun violence disproportionately affects black males. Through music, poetry and movement, the ensemble tells a tale that is all too sad and familiar: A group of city-dwelling black teens tragically become victims of a rash of shootings.
The confrontational nature of the play starts right away, as the audience stands in a circle while the actors (14 strong) pour in chanting "Book. Backpack. Gun." A percussionist (Chriz Zaborowski) marks each word with a sharp drumbeat and continues to set the tone throughout the show. The ensemble weaves through the audience, at times staring people down, at times looking at them pleadingly. Thus begins a real immersion into the setting: an urban high school and the surrounding neighborhood, where a group of friends, parents, teachers and newscasters narrate and navigate the tragedy that has befallen their community.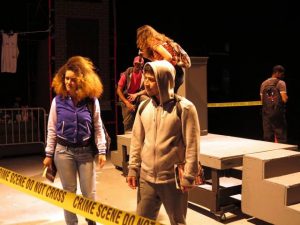 Boo Charles (Carleton King) is a poet, good at school, "a sweet kid." But when fellow classmate Sweets Walker (Damon Trammell) starts messing with his sister, Teela (Brittney Benson), his overprotective nature sets in. Jealous that Teela likes another guy and mad that Boo stepped in when Sweets physically attacked her, Sweets leads Boo on a rampage that escalates until the unthinkable happens.
The story is told through flashback, with news reports, shadow imagery, and photos projected onto the screen. Race is a central theme with poetry, rap and songs spoken and sung by the multiracial and multiethnic cast to highlight the differences we perceive between us.
The audience stands for the duration of the play, shuffling around as though they are in the story with the actors. This heightens a sense of belonging to the community, which helps the audience care about the victims. The discomfort gets particularly intense when actors walk around waving toy guns around.
But for all the uneasiness, it's important to see the terrible ubiquity of firearms in this country. It's way too easy for kids to get guns, bring them to school, and let things get way too out of hand. The Death of a Black Man (A Walk By) hopefully brings some awareness to the issue by focusing on how gun violence affects children and their families.