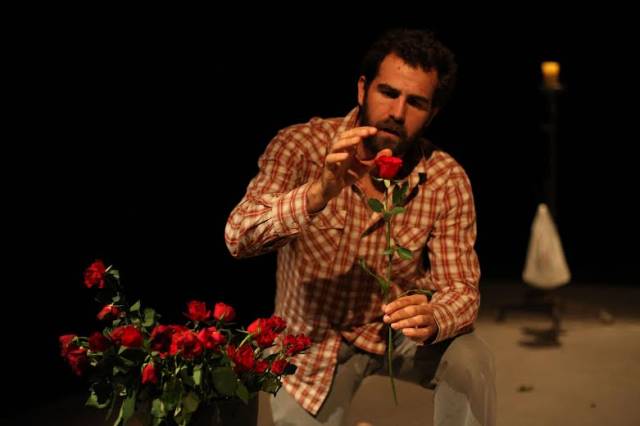 Dirt, written by Robert Schneider (and translated by Paul Dvorak), tells the peculiar story of Sad, a Middle Eastern illegal immigrant who lives surreptitiously in a rickety tenement. Sad's love for his new country is effervescent, and he spends most of his time mooning over his dreams for a better life, even while he is simultaneously hard on himself for living there illegally. A touching and brutal look at the lives of illegal immigrants, Sad is a sweet-faced stranger in a strange land.
The play itself is rife with imagery; Sad chomps into an onion as though it were an apple, eating a piece of the papery skin itself, and near to three dozen roses are some of the only props in the play. Sad sells these roses on the street to make his meager living—one in which he must eat onions raw to survive. And what a beautiful idea and image those roses become. We see a man unwelcome in his new country, who delicately cares for, and prunes these little symbols of beauty—while he himself is clad in filthy clothes, and sweat stained garments.
Christopher Domig, who has performed this role internationally, including productions in London, Berlin, Vancouver, and Edinburgh, has the clear and precise mastery of the play's very cerebral language. (And a tremendous feat this is: The play drifts around the same words over and over, letting their meaning and resonance build. Domig alone does all of the talking, of which there is a great deal.) That dexterity with language imbues Domig's performance with a great sense of play, and comes clearly from a performer who wears these words like a second skin. He plays Sad with a sweet boyish face, and his smile lights up the theater with self-effacing charm. Director Mary Catherine Burke does a fine job of helping Domig layer the role with many different experiences all going on, often in the same moment—and the set by Edward K. Ross is sparse and decayed and masterful.
The play is far from perfect, though, and any exception I took to the piece had to do with the story itself. This feels like less of a dramatic monologue at times, and more like a heart-breaking dissertation on what it is to be an illegal and an outsider. It's a play that is pure experience, but runs light on concrete action and story: You surely leave affected by the peril of illegal immigrants, but without much to latch on to.
Dirt plays at the 4th Street Theater through October 12th. Go to: www.theplaydirt.com for details and tickets.