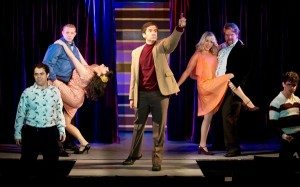 When I read that "Disaster!" was a musical with 1970s songs and starring theater greats such as Mary Testa and Seth Rudetsky, I was very excited to see it -- and this fun high-energy show met and surpassed all my expectations.  I highly recommend it.
The show is set in the late 1970s in New York City on board a large ship with a casino.  This is Tony's casino, but apparently he hasn't put the proper safety precautions into the boat.  He has paid off the inspectors and skipped several key safety requirements such as fireproofing and emergency exits.  "Disaster expert" and professor Ted (played by the hilarious Seth Rudestsky) warns him about an impending earthquake that will throw the ship into disarray and cause loss of life.
We meet a lot of very fun characters on the ship.  Waiters Chad and Scott try to pick up women.  Sister Mary is dressed in a nun's outfit; she starts off singing and playing a musical instrument, but soon succumbs to cigarette smoking. Husband and wife Maury and Shirley (played by the incomparable Mary Testa) sing the famous duet "Still The One" to show how they still love each other after 25 years of marriage.  Levora walks around with a dog she is having trouble affording, tries to skip a taxi bill, and takes money out of a stranger's wallet since she is a "celebrity."  There is a hilarious kid who plays the part of both the son and daughter (by donning a wig in various quick-change routines).  And there is a love story: Marianne, now working as a newspaper reporter, runs into Chad on the ship after having fallen out of touch years ago.
As Act I comes to a close, the predicted earthquake takes place.  Both the carefree partying and gambling (pre-earthquake) and the reveal of the official cause the natural disaster are hilarious.  As we enter Act II, we learn that these disasters are nowhere near finished.  Disaster expert Ted gives helpful advice on how to deal with the upcoming disasters (including a shark attack, bee attack, and many others).  We see the cast members in all sorts of disarray (mentally and physically) as they hope to finally escape the troubled ship.
All of this is done in a fun, campy way, eliciting laughs from each new situation.  There are a large number of 1970s songs (such as "Hot Stuff") throughout both acts, with musical accompaniment by a band.  The music will keep you humming and toe-tapping well after the play is over: I saw one woman dancing in place on line at intermission.
"Disaster!" has a first-rate cast, great songs, and a very exciting storyline that draws you right in.  Attention has been paid to little details, as well (such as Pier 54 in Manhattan and a reference to the fact that Shirley and Maury live at the last stop on the "R" train -- most likely in Bay Ridge.)  I encourage everyone to head over to St. Luke's Theater to see this first-rate "Disaster!" for yourself.
For more information on "Disaster!" check out our event listing here: https://stagebuddy.com/listingdetail.php?lid=14983