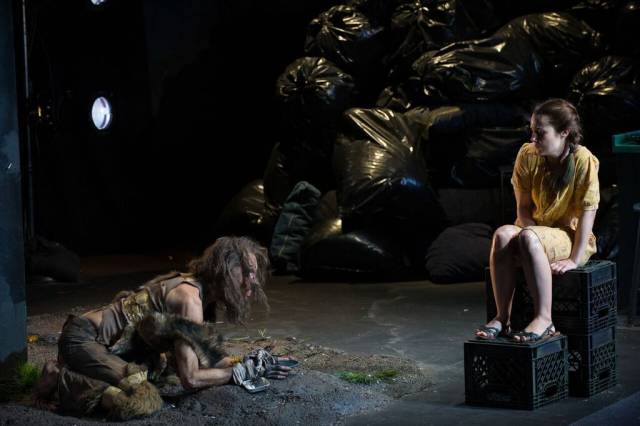 A family's struggle to survive in post-apocalyptic America is bleak subject matter, but the New York City premiere of Dog Days, a groundbreaking chamber opera with intrusive elements of heavy metal music, manages to give us a small ember of hope amidst mass destruction.  Presented as part of the Prototype Festival, Dog Days is written by a creative team that's rocking the opera world, composer David T. Little and librettist Royce Vavrek, who have racked up substantial commissions with various opera companies internationally. The two write from the gut.
Based on the short story by Judy Budnitz, Dog Days tells a tale of a damaged family in the war-ravaged and military-ruled rural Midwest.  A master at writing believable dialogue, Mr. Vavrek creates vivid characters yearning for dreams that will never be realized.  Father (James Bobick) and Mother (the superb Marnie Breckenridge) try to maintain some order as they sit down for a dinner of pickled carrots and, later, blades of grass; the table is set, grace is said, shirts are reluctantly worn by the two pubescent brothers (Michael Marcotte and Peter Tantsits) and little sister Lisa, played by the astonishing soprano Lauren Worsham, sees it all.  Like the lost child in an alcoholic family, Lisa writes in her diary to Marjorie, a friend long gone, and befriends a stray dog who comes begging for scraps, naming him Prince.  The stray is really a man in a dog suit, created by the transformative performance artist John Kelly.
Mr. Bobick, a powerful baritone, gives us a sad portrait of a man ricocheting between defeat and rage, impotent at being unable to care for his family while Ms. Breckenridge, who possesses an expressive soprano voice, shows us the despair that leads to defeat.  As the feral brothers Elliot and Pat, Mr. Marcotte and Mr. Tantsits give volatile performances and provide dark comic moments.
But the emotional center of this grim story is Lisa; her ray of hope cannot be distinguished even when surrounded by inhumanity.  Ms. Worsham, in a tour de force performance, sports pigtails and a dirt-smeared face and sings with a voice that shimmers with vulnerability, creating an unforgettable character.  With a soaring soprano and impeccable diction even in her glorious upper register, her arias, thanks to Mr. Little and Mr. Vavrek, are a treasure trove of emotional life.   Conversing with Prince in her first aria, matter of fact musings of a 13-year-old are coupled with Lisa's deep desire for connection: "We could be friends if you want. / Even though you're not normal. / After all, what's normal anymore, anyway?" During the course of the aria, filled with florid Baroque vocal lines reminiscent of Handel and a totally contemporary orchestral underpinning, family secrets are revealed.  Lisa notices everything.  By the end of this gorgeous and intimate aria, a bond has been formed: "You're a good listener, dog-man. / Crazy, probably, / But you listen."
Ms. Worsham sings two more arias: "Letter", a tender humming song, with the words she is writing in her diary projected onto a suspended screen above the stage, and "Hello There, Beautiful", a song sung to her emaciated self in the mirror, a close-up of her face also reflected on the screen:
Hello there, beautiful:
Collar-bone necklace,
Legs like stilts.
Skeleton-fingers for dainty rings
It's happened…
You look just like a model
Other musical gems in Dog Days include the family singing a splintering "Grace" before eating dinner and the mother's final haunting aria, "Odds".  Mr. Little has great command of many musical genres that collide and collapse into each other, keeping us surprised throughout and always listening at a deep level.  The chamber ensemble Newspeak, along with special guests, play with precision and expression, especially violinist Michi Wiancko and clarinetist Eileen Mack.  The excellent Alan Pierson conducts.  Their shadowy presence upstage center contributes in an eerie way to the overall storytelling, staged with a constant emotional charge by director Robert Woodruff.  Musically and emotionally, Dog Days barrels to a visceral and shattering end leaving audience members stunned.