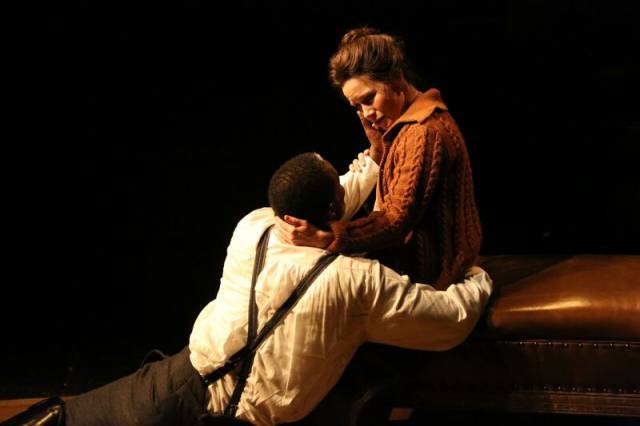 The power dynamics of marriage have never tasted so bitter. With Henrik Ibsen's A Doll's House and August Strindberg's The Father playing in repertory at the Polonsky Shakespeare Center, two Scandinavian playwrights hold a mirror up to the institution of marriage, and Theatre For A New Audience has reaped the sweet fruits of their labors with two outstanding productions directed by Arin Arbus.
A strong cast carries both plays, with each actor in one more or less portraying his or her counterpart in the other. In A Doll's House, the effervescent Maggie Lacey plays the youthful, charming Nora Helmer, a woman so full of life she literally cannot keep still. She gallops around the stage (a railroad-shaped set-up with the audience on either side, designed by Riccardo Hernandez), adopting a coquettish air whenever she wants something from her husband, Thorwald (the marvellous John Douglas Thompson). The unrestrained jubilation Nora exhibits thinly veils the darkness hidden under the surface. When Nora's old school friend, Christina Linden (Linda Powell), comes back to town, the secret that Nora has been keeping from everybody, especially her husband, begins to unravel.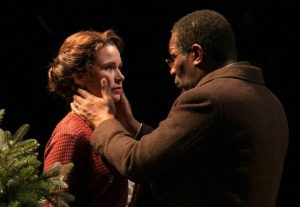 Written just eight years after A Doll's House in 1887, The Father carries many parallels to the Ibsen play. It's set at Christmastime, just like A Doll's House, but there is no cheer to be found. The Captain (Thompson at his most stunning) lives in nowheresville Sweden, one of his soldiers (Christian J. Mallen) has just knocked up a servant, and he is at constant odds with his wife, Laura (Lacey), about their daughter, Bertha (Kimber Monroe). He wants Bertha to go to school in the city and become a teacher, something sensible. Laura wants Bertha to stay at home and pursue her talent for painting. This tug-of-war power play escalates to an astonishing end (suffice it to say, there is a straitjacket involved).
Nigel Gore as Doctor Rank in A Doll's House is a flawed yet sympathetic man who almost gets tangled up in Nora's web of lies, while his Doctor Ostermark in The Father is simply there as a third party to observe. Similarly, Jesse J. Perez's A Doll's House character, Nils Krogstad, is a man whose dark past is enigmatically entangled with Nora's. He plays a Pastor in The Father, which is in direct opposition to the unsavory past of Krogstad, almost as if the choice were made so as to wipe Krogstad's sins clean.
As wonderful as these supporting characters are, the spotlight goes to the main couple at the center of each play. In one moment purring at each other and another with their claws out, Lacey and Thompson embody the myriad challenges of married life, and little of the joys. It's messy, it's unromantic, and it's real. It also serves to hold a mirror up to the boxes both women and men were put into back in the late 19th century, and perhaps still are. Women's suffrage didn't come until decades later; Nora and Laura are quite ahead of their time.