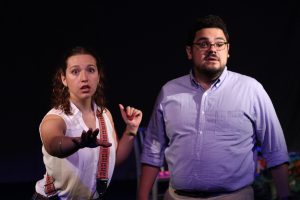 We've all been there before. At one point or another in our creatively genius lives we've had an idea or inspiration that we felt was so personal to our own identity, no one else would understand.  That is the story of Alex, who along with his brother Joe, uses his inspiration to build a new identity, one that impacts the lives in his community forever.
If you haven't noticed the pattern by now, we're covering the wonderful pieces of theater happening at Brooklyn's Comic Book Theater Festival at the Brick Theater. Today's review is for "El Coquí Espectacular and the Bottle of Doom" by Brooklynite Matthew Barbot. "El Coquí" gives wonderful insight into the world of cultural identity, stereotypes in the job market, and racial tensions both in and outside of the Latino community.
As Alex, a talented Nuyorican comic book artist, struggles to assimilate his traditionally Latino artwork with mainstream American value, his brother Joe faces difficulties in the workplace for the opposite reason -- not being Puerto Rican enough. Whether you're a comic book enthusiast or not, the issue of ethnic vs. cultural identity is one that many can relate to. Realizing this, Alex and Joe decide to it's time to create a superhero for all the Latinos in all five boroughs that may be suffering from the same issues.
If the topics of race, identity, and culture sound like too much of a buzzkill for you, bear with me. The play itself is actually hilarious, full of quick-witted humor that plays to typical Hispanic stereotypes while highlighting the ignorance that comes from believing in them. Barbot is masterful at conveying awkward, sometimes hurtful societal pitfalls with humor to soften the blow. His use of subtle Puerto Rican customs and traditions impacts the performance in a powerful way, from the carnival mask Alex uses to complete his transformation, to the name of the play, as the coquí is one of Puerto Rico's proudest cultural symbols.
"El Coquí Espectacular" is a wildly informative, yet still enjoyable piece about cultural pride. No matter what umbrella you fall under, this is one play that everyone can identify with.
Don't miss the final performance of "El Coquí Espectacular and the Bottle of Doom" on June 27 at 9 p.m.