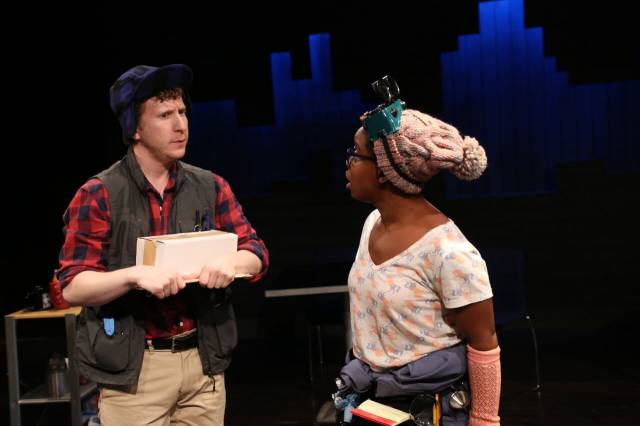 Ensemble Studio Theatre is heading into June with Series B of its 35th Marathon of One-Act Plays. The four, short works showing here through June 21 (and running concurrently through June 6th with the excellent Series A) do their strongest work in quiet, intimate moments and leave room to wonder a bit about the judgments we make about others -- their reactions, their intentions, their ability and their ideals.
The evening begins with Emma Goidel's We Can All Agree to Pretend This Never Happened, set in a Siberian basecamp where three American scientists (and one "lab supervisor" -- Jonathan Randell Silver's nebbishy, neurotic Andrew) are studying the effects of climate change. Project leader Liz (a radiantly trenchant Polly Lee) is planning to plant a virus in the permafrost samples by way of a 'dye' made by Maya (a put-upon Shyko Amos), knowing the young, inept Lincoln (haplessly heroic Mike Smith Rivera) will report the findings, link it to climate change and scare those Kyoto Protocol-ers out of their armchairs.  Liz's plans are complicated, of course, by love triangles, farcical misunderstandings and some unexpected moves from her unwitting pawns.  Director Abigail Zealey Bess directs the cast in whiplash transitions and to-the-hilt performances. The play has good bones but is a little bloated with business and plot twists and left me wondering if it wouldn't be better served in a longer form or even -- broad as it can be -- in the format of a three camera sitcom.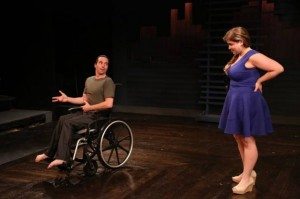 Martyna Majok has written a sweet and simple piece, John, Who's Here From Cambridge, about the titular graduate student with cerebral palsy (an acerbic but tender Gregg Mozgalla) who takes on a part-time caretaker, Jess (the wonderful Paola Lázaro-Muñoz). Majok's script and Nick Leavens and Assistant Director Corrine Hastings' direction is understated and light and manages to address judgments while pushing back on icky sentiment. In the end, though, the assumption with the most dramatic punch has nothing to do with either player's background or superficial qualities. That's how it should be.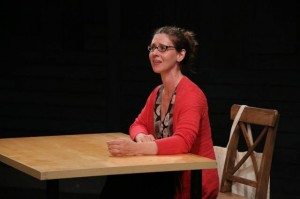 The Hour of All Things by Caridad Svich shows us Nic (Miriam Silverman, commanding the stage as monologist) who laments, loud and not-so-proud, the fate of "Radical Progressive Politics", which for the purposes of the piece seem little more than buzzwords. A good character piece with some great -- if at times purple -- prose, it covers the panoply of consumerism ("Global Capitalism is the magic trick" our speaker says with some irony) and quotidian, work-a-day blues as Nic explains her background and the ultimate decision and trauma that brought her to lights up. The play (directed in less-is-more fashion by EST Artistic Director, William Carden) loses me, though, when its anecdotal feet leave the ground to float into elegiac airspace -- as do jarring unaccented uses of Britishisms like 'queue' or 'motorway', which are half-explained, but a little late. The meatiest parts come from concrete episodes of things Nic's parents taught her or the account of her breaking down in tears at a supermarket and being sat down by the store manager. In both instances she is coached to subsume her feelings by condescending authority figures. Ironically, by play's end, when we transition a little into an abstract parable, I felt as though the counterpoint was being spoon fed to me.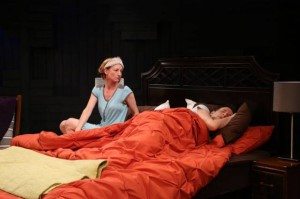 The most lived-in piece of the night is Julia Cho's Cora and Dave Are Getting Older. After a dinner with those friends (you know, the ones that eat right and are socially aware and dress immaculately and have a voracious love-life), Cora, played by the ever-hilarious Dawn McGee, can't help comparing herself and hubby Dave (the dead-tired Jack Sochet). "They're a better version of us," she says of Dear Abby and her perfect partner, Tim, while Dave struggles to get some shuteye and she applies lotion -- a regimen from Abby, perhaps? Without giving too much away, no one's perfect (even if they look that way), but, as we learn, some people are fine. And hey, so's Series B!