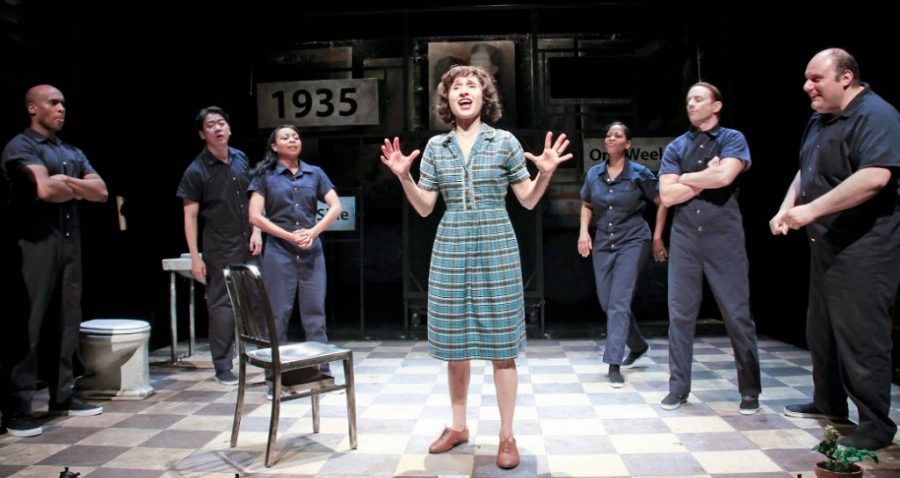 Why write a play about Ethel Rosenberg, you may ask? We already know the ending (spoiler alert: she dies); and we all know the evils of McCarthyism, but it's old news, a relic of the fifties.
But Joan Beber's new play, Ethel Sings: The Unsung Song of Ethel Rosenberg, is anything but irrelevant, or outdated. The play has plenty of modern references, many voiced by the character Loraine, played by Adrienne C. Moore (Orange Is the New Black). Loraine is a ghostly figure in the play. Beber ties together the narrative through Ethel's conversation with Loraine, who acts as a one-woman Greek chorus. Moore is onstage for much of the play, smirking all-knowingly at the past and offering a scathing critique of McCarthy-era politics. At times I found her character's presence unnecessary in what is otherwise a very subtle play (do we need to be told directly that McCarthy politics are bad?), but Moore is such an electric, magnetizing performer that I didn't mind much.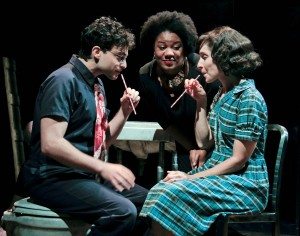 The acting really brings the play home. I saw it with Hannah Corneau, the understudy for Ethel, who captures perfectly the innocent, defiant, and ethically strong woman whose only fault, they say, was marrying the wrong man. Ari Butler, who plays Julius Rosenberg, Ethel's husband, is charming and charismatic to the core. Tanesha Gary is hilarious as Ethel's mother, Mrs. Greenglass, a perfect stereotype of a Jewish mother.
Though we already know the ending, Beber's script has some surprising twists and turns within the middle, at least if you're unfamiliar with the history. The Rosenberg case is too often taught as a footnote of history, perhaps summarized in a single paragraph of a textbook. Beber finally gives Ethel and Julius the pathos they deserve, and teaches the audience about what can happen in a corrupt judicial system. The play draws some parallels to post-9/11 times, which hits home: if we forget about this, it can happen again.  If you have a chance, go see this unique piece of theater before it ends July 13.
For more on Ethel Sings check out our interview with Adrienne C. Moore here.