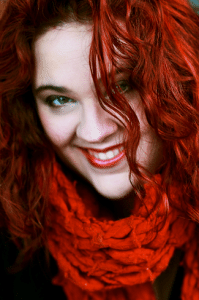 Carly Ozard, a cabaret singer based in San Francisco, brought her delightful show, "Midler on the Roof," to Stage 72 at the Triad for a one-night show on October 7. Ozard is a Bette Midler super-fan, the kind who knows all the lyrics to every song and can't go a day without being reminded of something the Divine Miss M did. Her cabaret show walks the audience through her life by way of relating it to the music of Bette Midler.
The Triad was a lovely venue for the night, with well-made drinks and a charming, intimate atmosphere. The show started strongly, with some of Bette Midler's best songs. Midler is one of those polarizing people who you tend to either have a strong reaction to, or who barely registers; if you love her, you'll love the show. Ozard's faithful renditions of Midler, her impeccable voice, and her heartfelt stories about growing up in the suburbs of California left many of the audience tearful by the end of the evening.
Even if you're not a die-hard Midler fan, Ozard's enthusiasm is somewhat contagious. That contagion may not be enough to carry you through the entire show alone (the song selection included a few duds in the middle), but if you find yourself bored at any part during the show, the two drink minimum at the Triad helps.
The show ends on a high note with some of Bette Midler's most iconic songs, the ones you were waiting for. Ozard does not disappoint, putting her vocal strength to good use on some difficult numbers. I left the show with a warm feeling in my chest, and it wasn't just the alcohol talking.
The organizers of this event also sent everyone home with a few basil seeds to plant when they got home. The seeds were provided by the New York Restoration Project, a charity that Bette Midler founded. A portion of each ticket also went to support the Restoration Project.