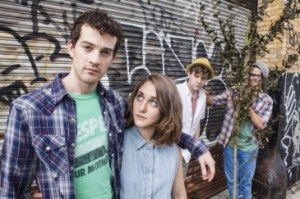 "Eudaemonia", a new play written by Jerry Lieblich and directed by Marshall Pailet, tackles the disconnect between appearance and identity beautifully. Incorporating fantasy, ambiguity, mystery, hilarity and bizarre realism, the play paints an accurate depiction of life in NYC when you're not where you want to be and demons possess you. Three twenty-somethings are given a brutal schooling in the fragility of "reality" as they perceive it, and watch their archetypal lives implode in this wildly entertaining play.
The show takes place mostly in and out of a railroad apartment, and the set work and lighting is stupendous. The eerie green and blue glow on a series of doors and compartments stretching down a long hallway is reminiscent of so many NYC apartments, and sets the depressingly hilarious tone perfectly. When it's time for the characters to go outside, or to a coffee shop, or get on the subway, the lighting design accomplishes this effortlessly, transporting you out of the space and suspending disbelief instantly.
Ned (Brennan Caldwell) is an aspiring standup comedian, and he eviscerates the stereotype, recording his act in his apartment alone and miserable. When it's time to "perform," Ned adopts comedian caricatures, but quickly returns to the morose mess he is whenever he takes a break. Ned quickly falls for his downstairs neighbor, zoo keeper Natalie (Emma Meltzer) despite her relationship with subway and cafe guitarist Michael (A.J. Shively). Natalie thinks Ned's a loser, because he is, but his dogged pursuit of her drives the plot and the destruction of the players.
The most intense performance comes from the screeching, panting, dancing and skittering Daemon (Brandon Espinoza). Espinoza resembles a young Val Kilmer, and his dedication to embodying the role reflects this. He literally vibrates and reverberates across the stage, stealing every scene he's in with manic movement, slapstick, and onomatopoeia. The Daemon lives in Ned's walls, and steadily asserts more and more control over Ned as the plot develops. As Ned transforms from an insecure, self-loathing loser into a badass, Natalie and Michael also discover secrets of their own. The build up and tension pays off in an explosive, shocking climax which leaves the viewer thrilled and the mysteries of the play still intact. Between the superb acting, writing and stage design, "Eudaemonia" is a must see.
Eudaemonia is one of three plays currently being shown at the Paradise Factory (64 East 4th St). It's playing through September, for tickets and showtimes go to: https://stagebuddy.com/listingdetail.php?lid=14608. Make sure to tweet us @Stagebuddy and let us know what you thought!