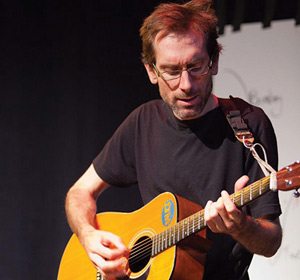 "Melting in Madras" is the story of H.R. Britton, a young hippy who goes to India to study Yoga, music, and find himself. Britton does a one man show, incorporating original music, playing multiple characters, and charting his journey across India over a spiritual journey. The play is funny, multifaceted, and ultimately problematic, due to its context: an American simplification and appropriation of an unknown culture.
Britton's story is a common one, and not all too different than the ubiquitous book/film "Eat, Pray, Love". The romance of escaping ones own life in the search for meaning and change is an archetypal tale, and Britton goes through it from the perspective of a stereotypical college liberal (he lives in co-ops, plays in a folk band, and practices vegetarianism). The play is self-aware of the juvenility and naivete its protagonist is exhibits throughout, but this doesn't cover for the ignorance and caricatures portrayed.
Much of Britton's reaction to India is a variety of shock and awe, mixed with adulation for something he can't possibly grasp, yet seems to have no real intention of truly learning from. Britton is like a man who believes if he hangs around the enlightened for long enough, it will rub off on him. He doesn't really investigate the complexities of his surroundings, and often complains or freaks out at minor adversities he goes through. Throughout Britton plays Indian characters he interacts with, and gives them cheap, Americanized Indian accents in awkward exchanges reminiscent of minstrel shows.
Eventually Britton is hospitalized after eating an unwashed grape, and spends much of the play recovering in the hospital. He's surly, demanding, and extremely rude to the people who are taking care of him, in yet more displays of Western entitlement. After a long and painful recovery, he's able to return to the United States, after offering a lock of his hair to a statue of Gandhi in an offering for peace. The play can be at times engaging and transient, but ultimately its narrow mindedness and cultural ignorance hurt the overall effort.
"Melting in Madras" plays tonight at 8:30PM at the Baruch Performing Arts Center (55 Lexington Ave). For the full listing, go here: https://stagebuddy.com/listingdetail.php?lid=14764