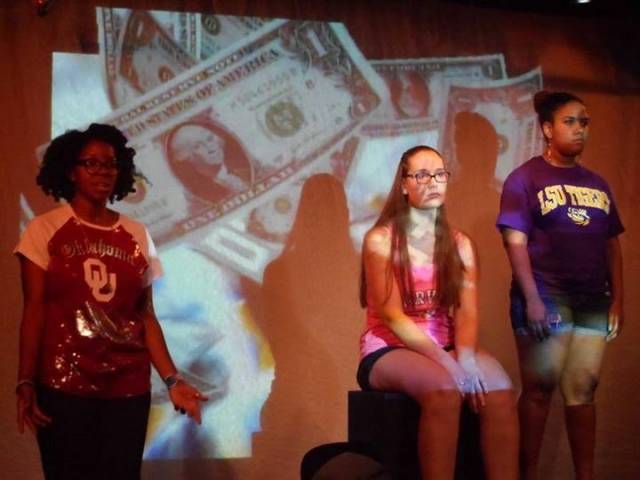 Financial Slavery: The College Debt Sentence, produced by Strength Out of Shadows and directed by Jennifer Little and Michael Pinnix, has developed from the painful, often traumatic and all-too-familiar tales of people who have to cope with the rising tidal wave of student loan debt in the United States.  The evening is a blend of spoken word, dance, poetry, song, and multi-media installations with often funny, painfully poignant scenes of what it is to be a person seeking an education, without a rich mommy and daddy. It's the conversation that no one wants to have, even though the bills and delinquency letters keep coming, popping up on the credit reports, living as a silent but financially-deadly burden on our backs.
Strength Out of Shadows is a company that is committed to uniting youth while offering them a space to create their own theatre pieces around issues that impact their lives. Also known as 'Devised' or 'Applied Theatre,' the genre of Financial Slavery: The College Debt Sentence gives a voice to those many voices that are silenced by shame, worry and feeling overwhelmed -- and wow, do those voices have something worth listening to! Rarely do more straightforward, traditional forms of storytelling hit on such urgent issues with such acute honesty and unfettered personal insight as Financial Slavery.
The writer of the piece, Alyea Pierce, and the cast of vibrant young actors are the steel spinal cord of the show. Frederick Philp gave a powerfully convincing portrayal of a young student struggling to afford school. Akash Jilla was at times delightful comedic relief and at others terrifyingly honest as the 'Slave Master' a.k.a. 'College Loan Debt.' Geralyn Williams and Ashley Krushinski as two students just beginning the journey of life, learning and loan-taking gave warm and honest performances. Toni Kwadzogah was funny, sweet and bright in multiple roles. And dancers Allie Harris and Brandi Pinnix moved with precision and power as they physically narrated one of the most effective analogies ever given to the subject of college loan debt: the back-beating plantation slave master of pre-Civil War America.
Directors Jennifer Little and Michael Pinnix have managed to balance the story with an ample dose of statistics and facts, told to the audience directly by the players. At no time does the piece feel too fact-heavy or theatrically thin.
There's no pleasant way to breach this subject. At least, when the energetic artists of Strength Out of Shadows bring up this matter, they are sure to keep the discussion purposeful and completely unforgettable.