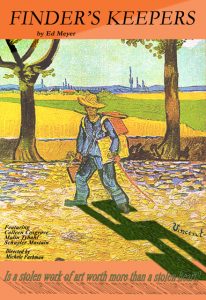 It's sometime hard to locate the missing ingredient in a story: that one element needed to pull everything together.
In Ed Meyer's Finder's Keepers, an heiress discovers that the priceless painting she's set to inherit may have been stolen from a Jewish family during World War II. Now she must decide whether or not to give a priceless painting back to its rightful owners. Complications of course arise on the basis of who is actually telling the truth. Is it the private eye-turned-lover, or the faithful and ailing aunt? Everyone has their secrets, though it doesn't help that many are indeed predictable.
Though the premise of "Finder's Keepers" lays the groundwork for a worthwhile adventure, the final product feels lacking in an almost amorphous sort of way.
Finder's Keepers was performed as part of the Thespis Theater Festival. For more information, visit https://thespisnytheaterfestival.com/