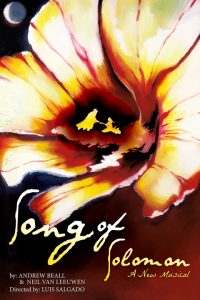 Song of Solomon can boast without doubt to be one of the finest performances in independent theatre. Based on the biblical mythology of King Solomon, and his tortuous pursuit of Almah, performed by the incomparable Ann McCormack, this show leaves no second unmiraculous.
The opera begins with an amazing thunderous introduction into the famous biblical scene where Solomon must decide which of the two women before him is the true mother of the child. Though the story is old, it's instantly captivating.
There is a clear choice to concentrate on the quality and delivery of performance, rather than dissipate focus to set details and wardrobe. As a result, electrifying arias and chilling portrayals flow seamlessly into each other. There are no dead or wasteful moments. Instead, each movement and iteration consistently pulls this story forward into a breathtakingly epic crescendo.
Song of Solomon was performed as part of the Thespis Theater Festival. For more information, visit https://thespisnytheaterfestival.com/