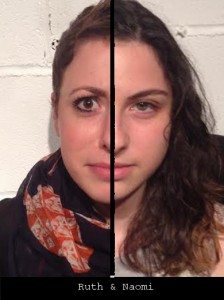 It's always difficult to surprise in a story about dysfunctional siblings. However, Ruth and Naomi, a play following Naomi's attempts to escape the suffocating dependency of her disabled younger sister Ruth, defies all expectations with beautifully wretched effect.
This story operates through a variety of parallels, double speak and dualities. In the midst of Naomi's struggle to find independence, she balances two families, and requisitely two identities. To Ruth, she's Naomi, the dependable and free-spirited. To her part-time lover Jen, she's Mona, the dependent and uncontrollable.
Playwright Sander Gusinow approaches items in her tale with subtle, but palpable hints and sacred significance. Ruth's pills, Naomi's pick, Ruth's pink box, Naomi's pills - all change meaning and effect on the two sisters, from crippling to restorative, and back again.
There are beautiful moments of authentic sisterhood throughout this show. During their first week away from home, Naomi catches Ruth suggesting that they return home. Thus, Naomi punishes Ruth by licking her arm, and gleefully chuckling as Ruth squirms.
All of these interconnections grow into an even more complex story with the introduction of the intern Alex, and his beautifully pure vulnerability. Without forcing it, Gusinow makes us yearn for Alex and Ruth to meet. Thankfully, she doesn't waste the opportunity, letting it happen in the most natural and sweetest way.
Alex and Ruth's mutual insecurities, and honest weaknesses, are mesmerizing. Lily Zahn (Ruth) and Jarrod Bates (Alex) never drop their persona, keeping the energy driving and addictive to watch. Paralleling Ruth's awkwardly wonderful climb into maturity is Naomi's equal descent into the abyss. Evangeline Fontaine masterfully injects both drive and vulnerability into Naomi's character. This performance is also benefited by Alinca Hamilton's outstandingly tortured performance as Jen. In all, the original and grounded course of this play results in a magnificent ending that doesn't fail to make you hurt and feel.
Ruth and Naomi was performed as part of the Thespis Theater Festival. For more information, visit https://thespisnytheaterfestival.com/