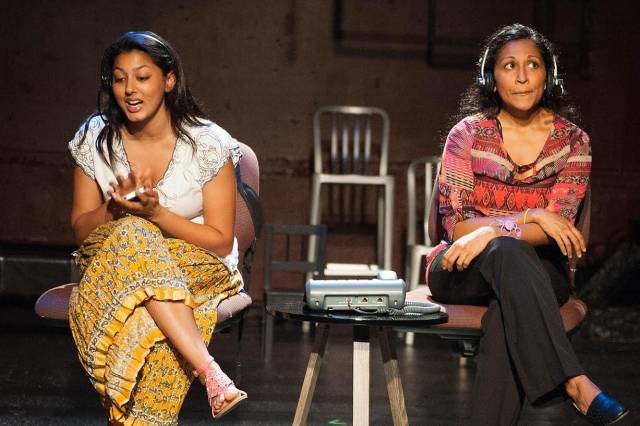 It's rare to find true ensemble stories on stage. Often times, the focus will inevitably shift to a central character, or follow the storyline of a smaller group as the rest give a sort of ambience in storytelling. However, in I Like to Be Here: Jackson Heights Revisited, or, This is a Mango, no one takes the lion's share of the stage. The audience isn't manipulated into caring for one character over the rest. Instead, I Like to Be Here's story becomes the collective journey created by the intersections of over 20 unique characters living in this Jackson Heights neighborhood.
I Like to Be Here, co-presented by the New Ohio Theatre and Theatre 167, is conceived and directed by Ari Laura Kreith, and written by Jenny Lyn Bader, J.Stephen Brantley, Ed Cardona, Jr., Les Hunter, Tom Miller, Melisa Tien, and Joy Tomasko. In it we see every form of love: familial, abusive, unrequited, destined, doomed and beyond. We see the barriers and intimacy created through the bounty of languages spoken in Jackson Heights. Even jobs acts as a means to connect – like Gita, the taxi operator, meeting her future love while she connects drivers to their clients. Though we also see it act as a means to exclude, like Eddie, a local police officer, profiling Larry, a new interracial father.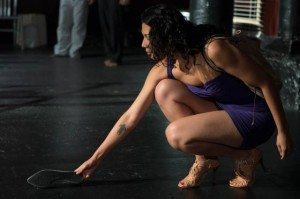 What makes this play even more stunning are the subtleties of each parallel and schism. The opportunity to show the connection between a drag queen's friendship with a young tom boy, and a South American prostitute's love affair with a poor Russian immigrant isn't lost amongst this cast. It's palpable and chilling: made more apparent through the same two actors portraying both roles, respectively.
I Like to Be Here is the fourth installation of what Theatre 167 lovingly call the 'Coast of LaGuardia.' Characters from the very first show appear in this play, giving loyal viewers a very special and satisfying treat to see. Nevertheless, though it's hard to put into words, the story is clear, and present. Complexity simply doesn't permit it to be so easily described. Instead, it's simply something you must see and experience to truly understand.
I Like to Be Here: Jackson Heights Revisited, or, This is a Mango continues its run at the New Ohio Theatre through September 27. For more information and tickets, visit https://www.Theatre167.org