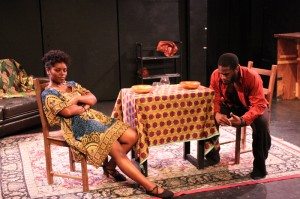 There are so many things that can go wrong in an evening of 10-minute plays, but The Fire This Time Festival gets it right.  With six great new plays written by emerging playwrights -- all of them with engaging voices rooted in truthful experience -- the production will leave you wishing for more from all the great artists involved.
This is the 5th cycle for the festival, which showcases the diverse range of voices in African and African American theater.  Each year they add to their family of artists, giving young playwrights an opportunity to see what it's like to produce their own work.  Opening the evening this year was "In Communion", written by Lori Elizabeth Parquet and directed by Lydia Fort. Franklin (Segun Akande) and Nica (Brittany Bellizeare) sit after breakfast on New Year's Day; Franklin has asked his girlfriend of four years to accept his desire to spread his love and sleep with other women.  This short goes far beyond cliche, helped along by excellent choices by Fort.  For example, because the chemistry between these actors is undeniable, Fort allows the audience to sit with the couple for about a minute in total silence, soaking in the unspoken history of these lovers.  Bellizeare and Akande give captivating performances as they have a conversation that redefines their relationship -- and challenges our own ideas about monogamy.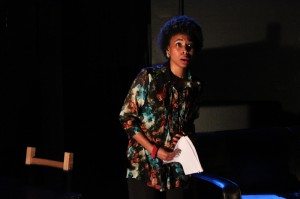 "Dream Awake" opens up to a new mother, Sasha (Chanai J. Hardy), who is visited by her concerned mother May (Peggy Johnson) and funny aunt Dove (Sandra Mills Scott) when they pass on a gift intended for Sasha's new born: an old book of biblical stories. Sasha confronts her nightmares, dreams, and herself in a series of drop-in post-apocalyptic visions.  These are brilliantly executed by all actors involved, thanks to their commitment to the style of the piece as written by Erika Rose and directed by Michole Biancosino.
Power dynamics are explored in "Disunion", which shares an interesting story with a surprise character who owns a sophisticated edge.  In this political drama by Judy Tate, Dr. Turner (Robert McKay) plans on running for Senate, leaving behind his respectable nonprofit, until his favorite employee, Lucia (Melissa Murray), shows up with plans to start a union.  Strolling in with exquisite force is Maggie Turner, played by the marvelous Brenda Thomas, who hopes to dissuade Lucia from her efforts by offering her a hefty check.  Melissa Maxwell does an excellent job staging the drama, coloring the many arguments with nuance and avoiding the traps of yelling for yelling's sake.
Jonathan Payne's "The Weatherin" is intriguing.  A ghost story about a siren, directed by Lileana Blain-Cruz and featuring Paul-Robert Pryce, Winston Duke and Seria Irving, it left me with the eerie sounds of the wailing voice and visions of a slow-flowing river.   This short felt like it wanted to be a one-act if not a full-length, providing a teasing preview for what would transpire when the siren stopped.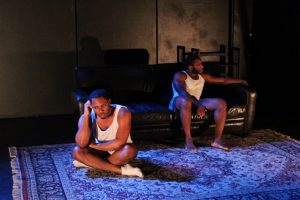 One of the bravest performances of the night was seen in Larry Powell and Segun Akande's portrayal of clay men who discover they have wings in "Gravity".  Playwright Josh Wilder teams up with the incredible Reginald Douglas, bringing Wilder's authentic voice to life.  With their scintillating expression, Powell and Akande cause your heart to stir in the heat of the moment.
Playwrights with soul are so easy to fall in love with, and Angelica Cheri's work touches the depths of your insides. "Slow Gin Fits" depicts a card game between two characters, Dinah and Harold, and director Cezar Williams creates a masterpiece out of it.  Williams brings two of NY's finest actors, Toccara Cash (Dinah) and Leopold Lowe (Harold), together as the two depend on the liquid courage of gin.
The Fire This Time Festival deserves more recognition and a longer run: the talent showcased is of the highest caliber and keeps getting better. If you're not on their mailing list already, do yourself a favor and subscribe so you won't miss out next year.