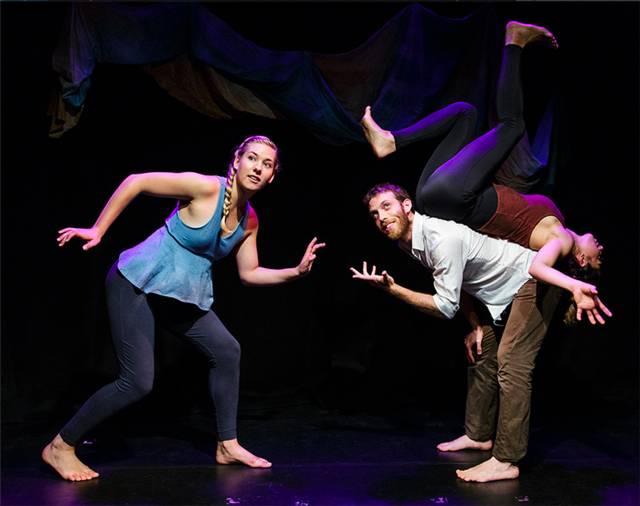 Children and adults alike will delight in the charming acrobatic adventure Flight, now playing a limited engagement at the Barrow Street Theatre. An adaptation of Antoine de Saint-Exupéry's The Little Prince, Flight takes the unique imagery from the beloved French story and turns it into a beautiful 50-minute movement piece full of intertwined bodies, mime and vocal sound effects.
Flight follows the narrative of The Little Prince quite closely, with a few notable differences. There is a gender-reversal in the role of the Little Prince (Cynthia Price), who is described as a little girl who claims she is a prince because "On my island I can be whatever I call myself, and I've chosen to be a prince." While the pilot (Ezra LeBank) meets the Little Prince after crashing his plane in the desert, the girl asks him tell a story of a badger instead of drawing a picture of a sheep. In lieu of a rose, it's a cactus (Taylor Casas) to whom the Little Prince longs to return. The wisdom of the fox becomes that of a turtle who says, "One sees clearly only with the heart. Anything essential is invisible to the eyes." Instead of traveling to six different planets, the pilot and the Little Prince travel to six islands.
Despite the divergence, fans of The Little Prince as well as those who have never read the book will still be entertained by the symbiosis between the three performers. LeBank, despite writing and directing Flight and developing it with Olivia Treviño, never showboats. He hangs back and lets his co-stars join him on an equal storytelling journey. Their hand-to-hand and balancing are skillful, and their bodies move gracefully as the play becomes balletic.
Flight should definitely appeal to children, who will like the imagery and the understated mocking of adults. Adults should enjoy the heartwarming story of love and friendship, as well as the very realistic bittersweetness in saying goodbye.