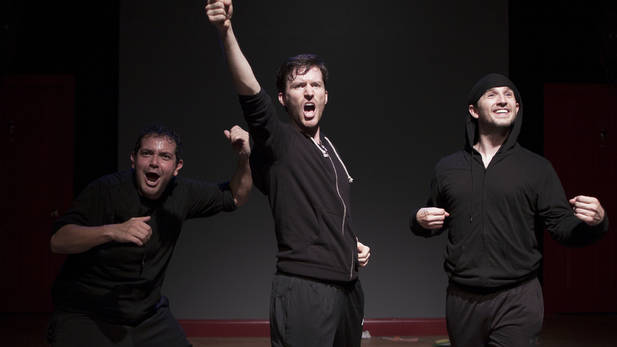 Recent Cutbacks have certainly not cut back on the fun and hilarity in their latest endeavor, Fly, You Fools!, a scene-by-scene reenactment of The Lord of the Rings: The Fellowship of the Ring. Performed by Kyle Schaefer, Nick Abeel, Matt Zambrano and foley artist Blair Busbee, Fly, You Fools! has the same lightning quick energy that the team infused into Hold on to Your Butts, their parody of Jurassic Park, also currently playing at the Peoples Improv Theater.
A reference to the wizard Gandalf's entreaty to the Fellowship while in the Mines of Moria, Fly, You Fools! attempts to do justice to the first movie in The Lord of the Rings trilogy in just over one hour. And, boy, does it succeed! From the beginning sequence portraying the origins of the One Ring to Rule Them All to Frodo and Sam's split from the Fellowship at the end of the film, Recent Cutbacks covers all the near deaths and escapes, the frequent comic relief of the Hobbits, and all the Elvish shenanigans. Not to mention the music (arranged by Kelsey Didion), which is also performed by Busbee on recorder and vocals.
Speaking of vocals, Busbee does some amazing effects with her voice, including impersonating the shrieks of the Nazgûl, making the sounds of rivers and forests come to life and, in a very humorous moment, taking over as Galadriel. With the combined efforts of Schaefer, Abeel and Zambrano, the cast does their part to fill every single role seamlessly and skillfully all while making merciless fun of each character. Adding to the ingenuity of the show, their journey through the aforementioned Moria is cleverly portrayed using a roll of paper towels and shadow puppets.
Every minute of the show is pure joy for lovers of The Lord of the Rings. Directed by Kristin McCarthy Parker, Fly, You Fools! has a quick, even pace that does not leave you missing the three-hour Fellowship of the Ring. But there are only five more performances running through the end of July, so Fly, You Fools! to the PIT for a night of laughs, excitement and epic fantasy.