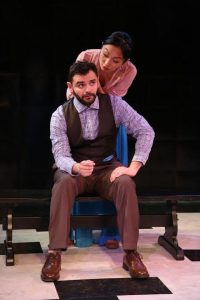 For most writers, there is much catharsis in storytelling. In the case of Fyodor Dostoyevsky's novella The Gambler, the real-life roulette addict wrote with considerable knowledge about a fictional roulette addict. The novel's true purpose however, in a race against a deadline, was to pay off Dostoyevsky's own mounting debt from the very thing he was writing about.
In Phoenix Theatre Ensemble's The Gambler (on at The Wild Project in conjunction with August Strindberg's Creditors), adapted from Dostoyevsky's novel by British poet and playwright Glyn Maxwell and directed by Karen Lordi-Kirkham, Alexi Ivanovich (John Cosentino) succumbs to the trappings of love, debt, the whims of others, and roulette.
Alexi, a tutor to General Zagorski's (John Lenartz) family, has been summoned from St. Petersburg by his employer to a German town in which gambling and the "most fashionable" Schlangenberg mountain reign over how the land lies. The General is indebted to the brusque Frenchman De Grieux (Joseph J. Menino) and his hope is that his eldest niece, Polina (Poppy Liu), with whom Alexi is in love, will form a union with De Grieux to help clear that debt. The General is also expectant of an inheritance from his Aunt Antonida (Elise Stone), after whose health he frequently asks, much to her discontent ("I'm leaving it all to the church!"). Elsewhere, the General's asset hound lady friend Madamoiselle Blanche de Cominges (Morgan Rosse), breaks hearts and wilfully distracts others, while the wealthy English aristocrat Astley (Matt Stapleton) becomes yet another potential suitor for Polina.
In the midst of serving Polina's increasingly challenging demands that range from self-amusement to scheming self-interest, Alexi falls doubly hard for the roll of the ultimate risky endeavor, roulette. Despite initial sensible protestations, Alexi's obsession for Polina takes him further in to a game of chance where the odds take no prisoners.
Maxwell's adaptation of The Gambler is buoyant and surprisingly cheerful, but manages to maintain the philosophical backbone of Dostoyevsky's writing. Director Lordi-Kirkham has made sure that the cast know their characters' bones. The slip from jovial to earnest and back again has few flaws. The cast play to their ensemble skills particularly well, most noticeably with the characters' interwoven cherished affections of familial and romantic love. In the tense casino scenes, the croupier (voiced by Nick Boydon) is comically apathetic while lighting/scenic designer Tsubasa Kameithe's blood-red doorways seem to look on in damnable judgement.
As in another classic novella by Dostoevsky, aptly titled The Double, this adaptation of The Gambler, with deceptive airiness, reveals a man split in two, in this case by an obsessive addiction; something with which Fyodor himself was all too familiar. As Alexi Ivanovich says upon his initial victory, "Two chips instead of one is like being drunk and seeing double."