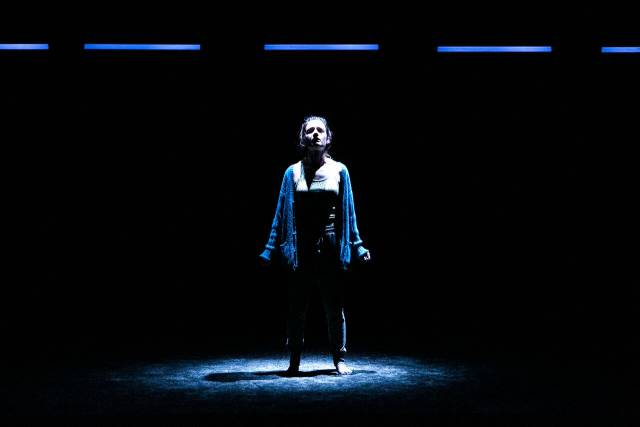 To begin with, the Girl (Aoife Duffin) is barely formed. Her body is still, her face pallid in scant light. But the signs are clear, the life ahead of her will not be easy. Her language stops and starts, it pulls and pushes those around her whom we meet through her eyes, her shifting voice. In under 90 minutes, the girl grows before us, from two to twenty. In a stream of consciousness, her speech shaves words, sometimes from the end of sentences, before scooping up a word mid-pause that will begin another. Her vocabulary races up and over itself with such fervidness that the silences are lucid and fluent. She communicates with her brain-damaged brother, absorbing and enduring her family, schoolmates and the shifty, often judgmental components of her community, in an unnamed place with unnamed people, somewhere in Ireland. Meanwhile, Mel Mercier's intermittent soundscape accentuates key moments in the character's chronology.
She loses her virginity at thirteen to her uncle. "I feel guilty and I am," he says years later, on the cusp of a ruinous affair.  From his initial, unpunished crime, the girl assumes control of her life with a string of sexual encounters. "I met a man, I met a man and I lay down and slapped and cried and wined and dined. I met a man and many more and I didn't know you at all."
In this stage adaptation of Eimear McBride's acclaimed debut novel A Girl is a Half-formed Thing, presented by the Irish Arts Center and the Baryshnikov Arts Center, Dublin's Corn Exchange founder and director of the play, Annie Ryan, was granted permission by McBride to adapt the book on the condition that while she could cut the text, she was not to change the language. Words, their syntax and sound, provide the blood flow of the play, but it is Duffin, in a pin-drop portrayal of a damaged but smart individualist, that sustains its pulse; so too the mix of traditional, pitiful, vicious and funny characters in her midst, all of whom Duffin seamlessly transforms into. "It's my greatest work," says the Girl of her mounting sexual conquests. Though maltreated, she is no victim.
The clout and vigor that Duffin commands is all the more apparent amid the curtain call and standing ovation that greeted her visibly exhausted mien. There are only ten performances of the play in New York (following its success in Ireland and the UK), now even fewer. For those who wish to see something truly extraordinary, albeit complex and emotionally demanding, A Girl is a Half-formed Thing should not be missed.