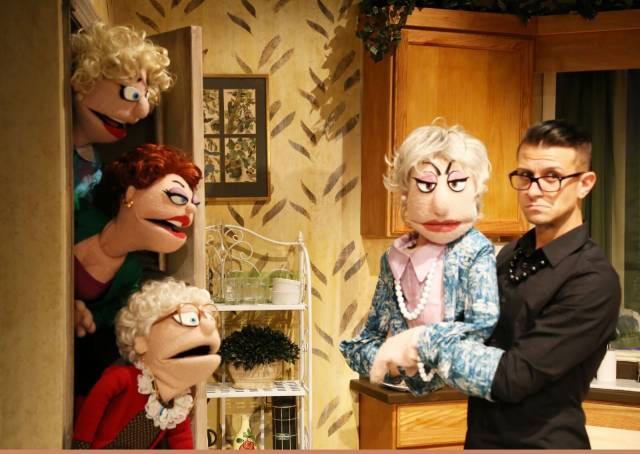 The vibe is electric. If the set, a near replica to that of The Golden Girls, isn't enough to get you in the mood, the audience singing along to the opening theme song will. As the familiar punch lines roll in, there is no doubt that we are back in Miami circa 1985 with those memorable girls of Emmy Award-winning TV: Blanche, Rose, Dorothy, and Sophia.
In Jonathan Rockefeller's That Golden Girl Show! - A Puppet Parody, now playing at the DR2 Theatre, our beloved Golden Girls are puppets, stunningly crafted by the incredibly talented Joel Gennari with true-to-character makeup, costumes and accessories. The puppeteers themselves are multi-talented -- just as fabulous as the felt friends they manipulate. Each one gives a full and considered acting performance right alongside the puppet versions of their characters, while also proving the high level of their skill in the operation of the puppets.
Emmanuelle Zeesman, who plays and operates the puppet Sophia, is particularly delightful with her accurate facial expressions and physicality. Cat Greenfield (playing Blanche) lives up to her sexy/slutty expectations, and Arlee Chadwick (Rose) is just as delightful. It is a momentous occasion when male actor and puppeteer Michael LaMasa walks in as Bea Arthur's LGBT favorite, Dorothy.
The only non-puppet character to appear is Stan, Dorothy's ex-husband. Zach Kononov re-lives Herb Edelman's guest character on the original show and later becomes an integral part of the story line developed specifically for this puppet parody. This story line does disappointingly veer off from a typical Golden Girls episode, while also being a little bolder in its language. It may have served the show better to continue along the same lines as it began with in the first act.
Having said that, the quality puppeteering and acting do make for an overall enjoyable experience. Die-hard fans of The Golden Girls will delight in the familiarity of the production, while others will be entertained and fascinated while discovering the inner workings of "The Great Herring War" and may even become enlightened to the problem-solving abilities of cheesecake.
If the original Golden Girls knew you were attending this puppet parody production, they would surely "thank you for being a friend."