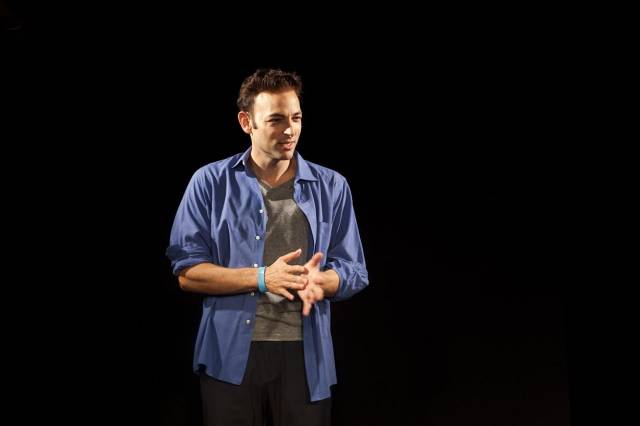 Good Enough, written and performed by Matthew LaBanca and part of the United Solo Festival, explores territory that most of us experience at some point in our lives: the struggle to believe that we are enough, just as we are. A quadruple-threat performer, Mr. LaBanca sings, dances, acts and plays the piano as he shares with the audience his journey of discovering the meaning of success and endeavoring to find and be his authentic self.
The solo show is fashioned around Mr. LaBanca's Broadway debut in Young Frankenstein, but he also deftly weaves in moments from his childhood and adult life, all underscoring his supreme commitment to being good, doing the right thing, putting on a happy face and seeking affirmation from others for his self-worth. He tells us that he has an inner voice called Tiny Scout that helps him navigate the "being good enough waters" and instructs him, sometimes through song, on what he should do and say to fit in and be a part of the in crowd. There are deliciously painful inner dialogues between the confident Tiny Scout and the anxious Mr. LaBanca as he struggles with what to say during an endless ten minute break at a Young Frankenstein rehearsal where Megan Mullally, Sutton Foster, Susan Stroman, Mel Brooks and other A-listers are milling about. We are treated to many more of these dialogues including one in the gym as Mr. LaBanca notices and hopes to be noticed by an extraordinarily well built guy. This is comedy with a side of heartbreak. As an audience, we recognize the desperate desire to impress which often backfires.
Throughout the evening, Mr. LaBanca, with a few brushstrokes, creates some wonderful individuals that move the action along. But it is in a narrative scene in which he describes a bullying incident at school that we are perhaps given the most powerful secondary character. Although Mr. LaBanca has himself been bullied, he steps outside of his own story here to tell us his classmate Anthony's story, giving us another facet to the good enough struggle. This small story is filled with surprise and victory; it serves as a microcosm for the entire evening.
Music is an integral part of Good Enough. Mr. LaBanca has a gorgeously expressive singing voice and using recognizable show tunes, gives us cheeky new lyrics that illustrate the frustration of being good. He also sings a beautiful rendition of "Glad to Be Unhappy." When he isn't singing to a recorded track, Mr. LaBanca is accompanying himself grandly on the piano. Recorded musical tracks also give the audience a chance to enjoy Mr. LaBanca's graceful dancing, joyful hoofing and some swell pirouettes. Director Kira Simring makes nice use of the small empty space, staging with angles and diagonals that enhance the storytelling.
Mr. LaBanca is a charmingly engaging performer and his solo show Good Enough poignantly reveals that striving to always get it right can rob one of joy, spontaneity and the imperfect adventure of just being yourself.
Good Enough is presented as part of the United Solo Theatre Festival, which continues through November 23. For more information and tickets, visit https://unitedsolo.org/