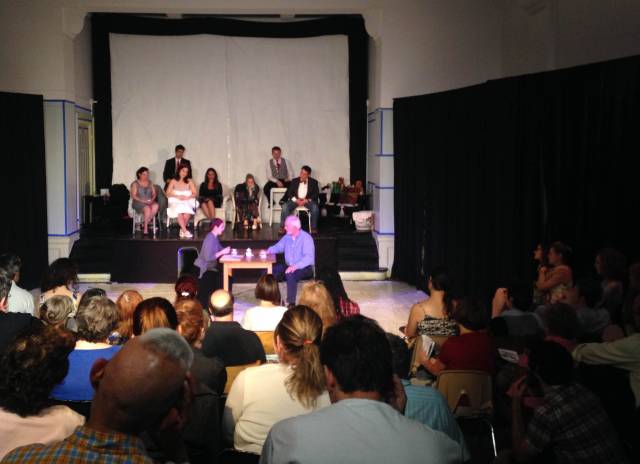 On June 17th, the Greenhouse Ensemble presented an elegant soiree of eight original short plays, complete with live music and original art work on display. These evenings are produced several times a year at the Franciscan Community Center, with Artistic Director Hazen Cuyler and Managing Director Reanna Armellino offering a professional outlet for some of the brightest new talent around the city to show off their wares.
Some very cleverly written plays had the audience rocking with laughter, or taken surprise by unexpected twists.
Of particular amusement was Scott Mullen's "Next," a quirky take on the possibilities of romantic possibilities post death featuring a delightfully agitated Carla Nager as the clerk in charge of admissions into the afterlife. .
The poignant 50s-era story of C.J. Ehrlich's "It Skips a Generation," about a young girl, longing for a chance in the performing arts, who visits her grandfather seeking inspiration and guidance, was lovingly directed by Daniel Capalbo, Jr. Shelby Hiltunen's performance as the granddaughter was exquisitely touching.
"The Maltese Walter" by John Minigan, another fine piece of original work, has a man called Walter, portrayed consummately by Justin Schilling, seeking therapy to overcome his tendency to wander off mid-conversation into the black-and-white world of film noir. R. David Robinson was most enjoyable as the back-stabbing therapist Dr. Eddy, pulling together this delicious story executed with perfection by director Keegan McDonald.
"Immersion Therapy" by David MacGregor once again gave another example of the shining talent, providing a unique story about a clown being sent into a home as a birthday surprise for a woman with severe coulrophobia. Prudently directed by Reanna Armellino, this seemingly obscure premise was presented with a natural realism. Mark Eric Gomez as the prankster husband commanded the stage with ease and confidence, giving a charming and natural performance, while Charlie Anderson as the unaware clown executed the punch lines with perfect timing. Anderson's realistic and understated performance was cleverly delivered as a juxtaposition to the loud, garish clown costume he wore.
Another favorite was the existential "Green Sound," written by John Patrick Bray. Sensitively directed by Tony Tambasco, the traditional definitions of color and sound were blurred and presented in a magical and surreal narrative about two young girls, played superbly by Rachel Drayke and Courtney M.McClellan. Both Drayke and McClellan delivered with complete understanding and confidence that allowed the audience freedom to take what they would from the play.
So many of the evening's contributing artists deserve to be singled out and praised, but sufficed to say, this was a most enjoyable evening out, filled with artwork, live entertainment, and high quality plays. Greenhouse Ensemble Soiree Evenings are well worth keeping an eye out for.
For more information about the Greenhouse Ensemble, visit: https://www.facebook.com/thegreenhouseensemble/