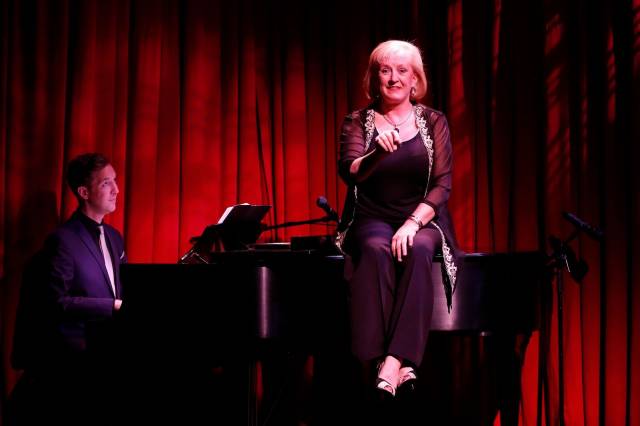 New Yorkers and out of town audiences are in for a delightful treat as British sensation Dillie Keane closes out the 2016 Brits Off Broadway festival at 59E59 Theaters. With a collection of old songs, new material, and plenty of life lessons in between, Keane showcases the talent, wit, and brilliance that have sustained her career for decades.
From the moment that Keane enters and makes her presence known on stage, we instantly feel like we are guests in her living room and are welcomed with open arms. The adorable and charming Michael Roulston accompanies on piano and his calming energy is the perfect balance to Keane's fiery spirit. The two make a fabulous pair and it is apparent what a labor of love the process has been as they share in the experience. Simon Green directs.
Keane's sound and lyrics are truly one-of-a-kind as they stem directly from her encounters with love, relationships, life on tour, and finding one's place throughout the years. She is unabashedly honest and fearless when it comes to expressing obstacles to dating and reflects back on those bad dates with entertaining and bold ballads such as "Much More Married" and the all-telling "Internet Love", which pokes fun at attempts to find love in the digital age. Her punchy songs leave audiences nodding in agreement and provide a sense of comfort, as your troubles no longer seem so bad.
Hello, Dillie! features a unique mix of material, which also includes collaborations with Keane's writing partner, Adele Anderson. Keane fills audiences in on the inspiration behind the songs and what stage of life prompted each tune – making you feel as if you were an old friend along for the ride. Keane really does bare her soul in the material and an underlying tenderness is found within the melodies, providing a sense of healing not only to herself, but to all humans. The melancholy "Single Again" explores the plight of a woman over 50 as she tries to navigate the game of love in a new way as a modern woman. The story gets better with songs such as "Song for Tom", which talks about building a life with a partner and sticking together through the good and the bad, while crowd-pleaser "This Ain't the Hockey Cokey Any More" gets brutally honest about acknowledging the changes in a couple's sex life as the years go by. All in all, this catalog brings the journey full circle and will leave audiences thoroughly satisfied.