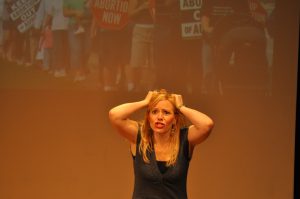 Where do you find help when you realize you've nowhere else to go? That is the question at the center of "Help Yourself", a witty one-woman show written and performed by Lauren Hunter and directed by Kitty Lindsay. The setting is a nondescript room - the kind where people sit in a circle to talk about their addictions while bitter coffee and stale donuts lie on a plastic table - where Lauren hopes to find the help she needs to overcome her latest tribulation. But what exactly is this problem? Not even Lauren knows.
A self confessed lover of twelve-step programs, the Lauren before us is a neurotic woman in her mid thirties who has tried satisfying her emotional vacuum with men, women, alcohol, drugs and other addictions without ever finding fulfillment. The magic here lies in watching the endlessly talented Hunter find a soul in a woman that could've easily been the caricature of a New Yorker. She addresses the audience as if we were part of her group and listening to her troubles we find ourselves not only connected to them, but also developing empathy for a character we might not like in the "real world".
While not didactic in the strictest sense of the word, "Help Yourself" does teach us lessons in tolerance, acceptance, looking beyond the surface and listening to others. Hunter tells us stories we might, wrongfully, assume are autobiographic, because she seems to be one and the same with the woman we are seeing. She goes from hilarious to heartbreaking in a matter of seconds and suggests a rich life one can't wait to learn more of. That Hunter is so willing to be this vulnerable onstage without recurring to cheap sarcasm is testament to her ability as a comedienne who knows that laughing with someone is better than laughing at them.
"Help Yourself" is an official selection of the 2013 Midtown International Theater Festival.