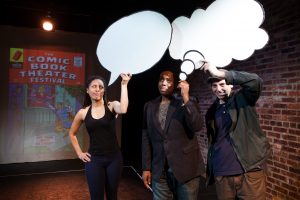 As we spend the month of June settling into summer, The Brick, a quaintly restored theater in newly renovated Williamsburg, prepares to bring New York comic buffs out for their second edition of the Comic Book Theater Festival. Rounding out their first week was the Friday night showing of "Hero How To", a tale of trials for Dusky Diana set to the rhythm of funk, soul, and hip-hop.
As the prologue to writer Wi-Moto Nyoka's online graphic musical "The Last Days of Kartika", "Hero How To" uses music rooted in Afro-centric elements to serve as the backdrop to the origins of Diana, the soon to be hero of Kartika. After suffering a major loss, Diana steps up to take care of her younger sister, working a less than satisfactory job at a dystopian corporation and taking a harder outlook on life. Nyoka's observation and conveyance of comic book style authoritarian worlds is spot on, though that may be "Hero How To's" greatest folly; with themes and ideas this strong, the performance must be equally fit, and Friday night's show sadly was not.
It would be unfair to set your expectations when seeing "Hero How To" with the same logic you approach another lofty, exhausting Disney adaption, but it must be said that the difference between talent and success is execution. While I enjoyed the beautiful spoken word of Kevin Chen, Diana's love interest played by Yun Jeong, the passionate rhymes of Diana's sister Lelu (Latisha Di Venuto), and the lovely voice of Diana herself, portrayed by spoken word artist Passion NoLastNecessary, almost everything else fell flat for me. Watching the production from Act I to the climax, I waited for each scene to deliver on the revolutionary concepts it was creeping towards. I wanted to watch the chemistry between Diana and Kevin continue to bubble and explode the way conflicted feelings often do. I needed to see what was Diana's plan to save herself, her loved ones, and her city from the evil Phercy Corporations.
"Hero How To" is headed in the right direction for the growing social justice spirit that rages through the artsy and creative millenials of today. Perhaps as a web series, Nyoka's vision can come to life with the fire it deserves. Despite all of my above rants, I did leave the play intrigued to see where the story would go from its cliffhanger -- perhaps proving that maybe the prologue delivered on its premise after all.