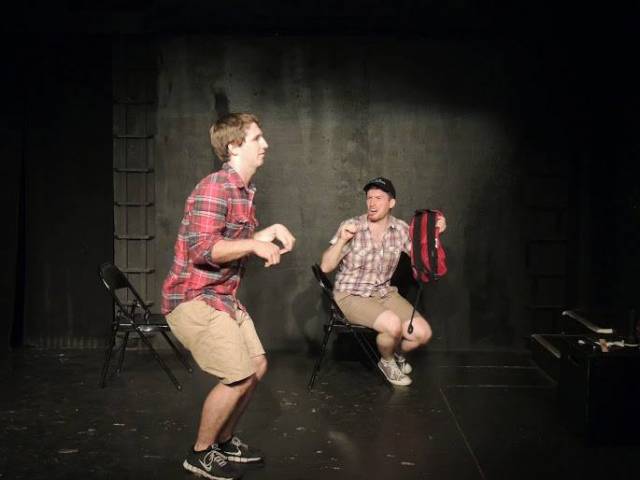 Say you had a hankering to watch classic Steven Spielberg film Jurassic Park. Now say you only had about an hour and wanted way more laughs than the original film provides. Then get your butt to the Peoples Improv Theater (PIT) for Hold On To Your Butts, a live, shot-for-shot reenactment of the epic 1993 film.
You know the story: Billionaire mogul John Hammond builds an island theme park full of real dinosaurs cloned from prehistoric DNA and invites a couple of paleo-scientists (and Jeff Goldblum) to tour the park. No sooner has the majesty of the place settled in than the dinosaurs begin to run amok. Velociraptors misbehave, cups of water tremble, limbs and lives are lost, and T-Rex saves the day.
While I'm sure it helps, one needn't be too familiar with Jurassic Park to be entertained by this extremely talented group of performers. Case in point, I hadn't seen the movie in over 15 years and definitely understood what was happening. While there are many jokes in this remake that may have gone over my head, Kyle Schaefer, Nick Abeel, and foley artist Kelsey Didion do an amazing, and hilarious, job of reconstructing the story.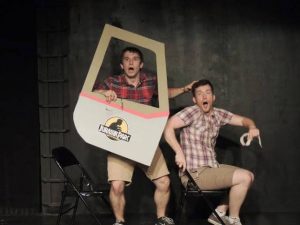 Schaefer and Abeel act, mime, and perform puppetry for every scene and character in the movie, including the reptilian ones, with help from Didion, who provides all the sound effects seamlessly. Abeel does an insanely good Jeff Goldblum impression and Schaefer's energy is just through the roof. These two artists, along with director Kristin McCarthy Parker, have crafted an impressive, head-spinning, laugh riot of a spoof that manages to be a love letter to the film even as it makes fun of it. The props (Ashlee Springer) are spot on in their simplicity and often wink to the audience, encouraging us to use our imaginations.
With only a few performances left, run—don't walk—to the PIT to go see this masterful production of Hold On To Your Butts. Visit https://thepit-nyc.com/event/hold-on-to-your-butts/ for tickets and info.