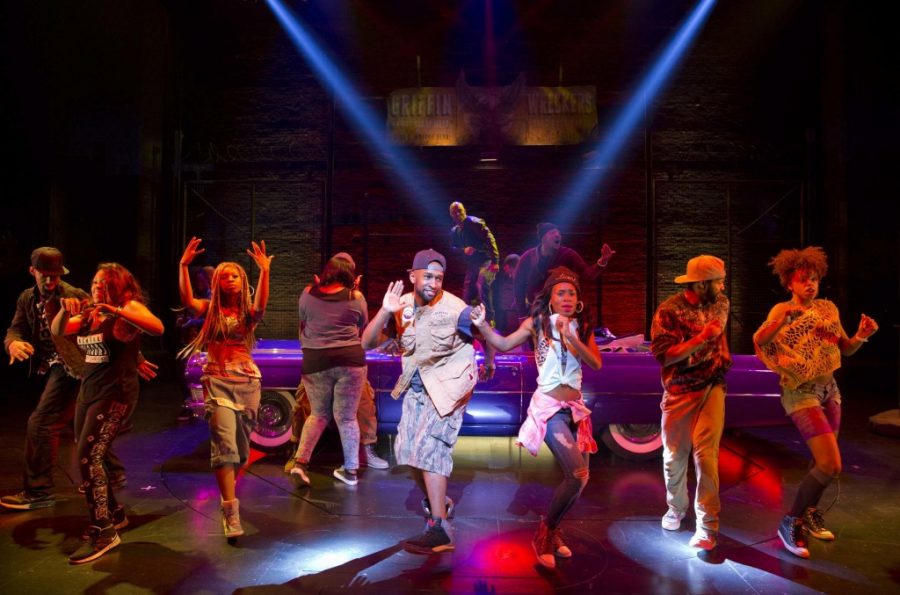 We all choose to go to the theater for a myriad of reasons, be it inspiration, escape or the opportunity to see a familiar face upon the stage...I sat at the Palace Theater looking at the bare empty stage, flooded with excitement and anticipation as I prepared to witness game-changing musical Holler If Ya Hear Me, based on the lyrics and music of Tupac Shakur...and as the lights went out, our collective imagination drew us to a block in a Midwestern industrial city.
To get this out of the way let's just say the story isn't the most compelling thing ever but the performances make it all worthwhile.  Former king of the block John (Saul Williams), has just been released from prison. His close friend Vertus (Christopher Jackson) has a brother, Benny, who gets shot by a rival gang who call themselves the 4-5's.  Benny was supposed to travel to California with Griffy (Ben Thompson); they worked together as auto mechanics.  You can't tell any story without love so we also have Corinne (Saycon Sengbloh) who use to date John but is now with Vertus.  Then there's Darius (Joshua Boone) and Anthony (Dyllon Burnside) who actively seek revenge for Benny's death. Once the players are revealed and chaos is brought to peace, we know someone else will get shot.
One could say I'd like to see a different story, one not about a kid lost by an angry bullet and a man attempting to start his life over...but there is something that remains relevant about these familiar situations, or so suggests Todd Kreidler's book. Fresh off his Tony win for A Raisin in the Sun, director Kenny Leon keeps the grit of the world without turning off the audience; the language, which most would claim to be foul, is appropriate and supports the truth and conditions of the environment. We understand that these people never had the advantage in life and our heart goes out to them.
Certain numbers stick out in all musicals, and "California Love", charismatically charged and well articulated by Brandon Gill and Jared Joseph who play supporting characters Reggie and Lamar, is one of the highlights of Holler.  It's the party we all want in on. (Who wouldn't want to enjoy the comfort of headlining on an old school Cadillac as it spins on the stage?)  The My Block Chorus of Men is equally matched with the My Block Women, whose leader, Joaquina Kalukango, sets Darius in his place in "I Get Around/Keep Ya Head Up".
Listening to rap music is similar to hearing Shakespeare for the first time: you develop an ear for it and over time it becomes like second nature. Holler If Ya Hear Me is an experience that can't be compared to anything we've seen on Broadway to date.  With its ensemble of underdogs with unmeasurable talent featuring lyrics from an icon lost too soon, Holler is hopefully just the first of many shows in which new stories will be shared on Broadway. When Tupac Shakur wrote his music decades ago, I'm pretty sure he didn't see this coming.