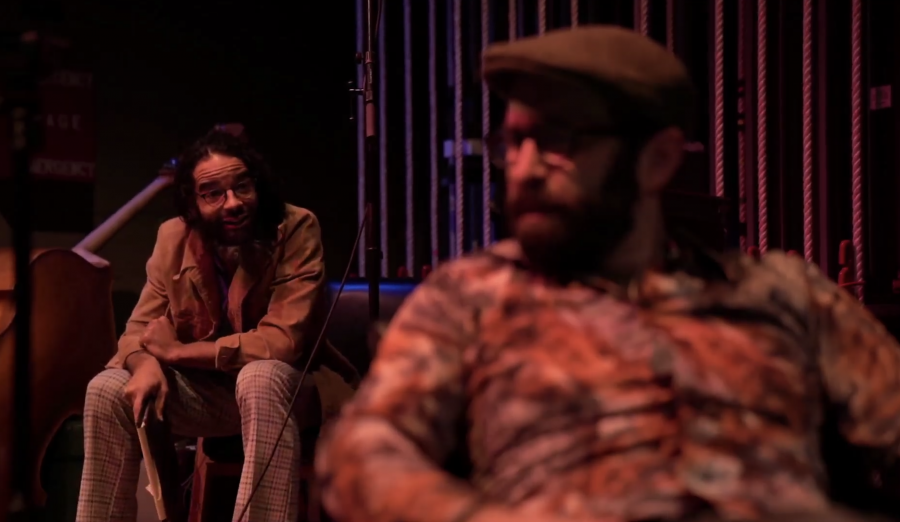 Bobby is an introspective radio host who has four listeners, an obsession with death, and a hatred for the 6th of November. The latter is understandable, since his grandparents all died in four subsequent years on the 6th of November. (He gives all the details via an old school slide projector, and it's absolutely hilarious.)
So Bobby leaves home on November 5th. When he returns a year later, he finds his dog Miller lying dead on the roadside. That night, in a dream, Bobby goes through the refrigerator into a parallel world. In the new world, Miller is alive.
This is clearly a case of dimensional simultaneity, as Larry, his best friend and psychoanalyst, tells him. Maybe if Bobby goes back into the refrigerator, he'll find another portal leading back to his own world--that is, if he wants to go back.
That night, his parents die. So Bobby goes back to the refrigerator and enters another portal. In the new world, his parents are alive again, and back together. It seems he's entered a third parallel world. Life in this new world is great until his girlfriend Lily dies. And back into the refrigerator he goes, searching vainly for a parallel world without death in it.
All this may sound tedious. It is anything but.
The English-language première of Hotel Good Luck, co-presented by The Cherry Artists' Collective and the New Ohio Theatre, and live-streamed from the State Theatre in Ithaca, NY, is a rare gem. Rare for both its quality and its power as a live-streamed production (Samuel Buggein directs). Rather than a filmed play, it feels like an intimate dream journey.
Each parallel world peels back another layer in the play's ever deepening meaning, unfolding new petals like a rose. Seth Soulstein (Bobby) is the perfect narrator for this lyrical, thought-provoking piece, with a voice reminiscent of old-time radio and a warmth of expression that makes him implicitly trustable. A storyteller, Soulstein plays every character except Larry--the candidly comic Desmond Bratton, also the cellist providing background music.
Bobby fills us in on all the important details of the story via slide projectors, notes, anecdotes, snippets of his radio broadcasts, and phone conversations of which we hear both sides but not simultaneously. But he always brings us back, an unfailingly honest guide weaving in and out like the tide. Although relationships are at the heart of this piece, it's Bobby's story after all.
Playwright Alejandro Ricaño's and translator Jacqueline Bixler's script is playful and poignant, immediate and immersive. Set amid a warm backdrop that feels like a cozy yet hip living room, this play is like a bedtime story for adults. It's soothing and yet forceful, a tidal wave of emotion, introspection, and wonder. We wonder at the miracle of life and love, at the beauty of relationships and second chances. Hotel Good Luck is a testament to the bewitching power of poetic theatre delivered by a masterful cast and creative team.