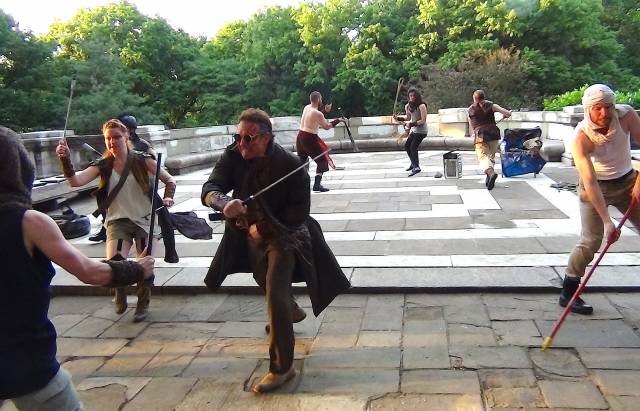 Those up for for Shakespeare al fresco without the line might look West for Hudson Warehouse's Henry IV Part I now playing by The Soldiers' and Sailors' Monument in Riverside Park. The jaunty, at times hyper-violent and always vibrant production transplants the second play of Shakespeare's second historical tetralogy to a vague post- apocalypse setting -- at least that's what I'm led to believe by playbill art and the scattered set dressing of burnt out computer cabinets, tires and VCRs. Then again, maybe I just have Mad Max on the brain.
Despite the half-baked concept, it's still the play you know, peopled with the ne'er-do-well Prince Hal (the excellent George K. Wells in H&M chic) and rotund knight and lecher John Falstaff (brilliantly realized by Roger Dale Stude) who is his perennial mark and companion. There's the court of our titular king (Paul Singleton) at odds with a crew of supporters turned rebels, the Percys: Hotspur (Julie Baber plays a fierce, if one-note bit of cross-casting) and the Earl of Northumberland (star of stage and screen, Steve Guttenberg, who grimaces and growls through his turn as the hobbled Earl), who ally themselves with the Welsh and Scots after refusing to give up their hostages to Henry. War breaks out and the bit of farce and Falstaff fall away to welcome Hal's maturation and eventual showdown with his Percy counterpart at Shrewsbury. But the balancing of plot politic and humorous picaresque requires great finesse. Nicholas-Martin Smith's direction sometimes falls short here, with moments of poignancy being clumsily undercut by clowning and jokes that don't land.
I'd be remiss not to mention the costume design by Emily Rose Parman. Decidedly period-non-specific this one features Chuck Taylors, aviator caps, tattoos, rat tails, buckles, bucklers, leather (doublets and biker gear) and an odd pair of goggles for steampunk fans. Weapons (used to brutal effect in Jared Kirby's visceral arterial spray fight choreo) are makeshift; it's Found Object Shakespeare with the Percys showing up to the fray with what look to be fire pokers and Falstaff wearing a New York license plate gauntlet. Imaginative and interesting though these trappings may be, one wonders if they service the play's themes in any significant way -- maybe if the punk rock aesthetic stayed with Hal and friends while his father kept a more conservative-looking court, then a costume change as Henry the younger transitions?  I'm all for reaching out of the medieval, but I like my repurposed settings to have something in the way of commentary. This feels like a dartboard approach. Stage business like King Henry's one-off whiff of what I believe was nitrous, or shooting up with a syringe proffered by his youngest son, also feel a bit scattershot, and since Paul Singleton plays the part in such an understated way it doesn't read as justified in performance either.
These caveats aside, the production is solidly acted and briskly paced (two hours without intermission). Those unfamiliar with my favorite part of the Henriad could do worse for an introduction.