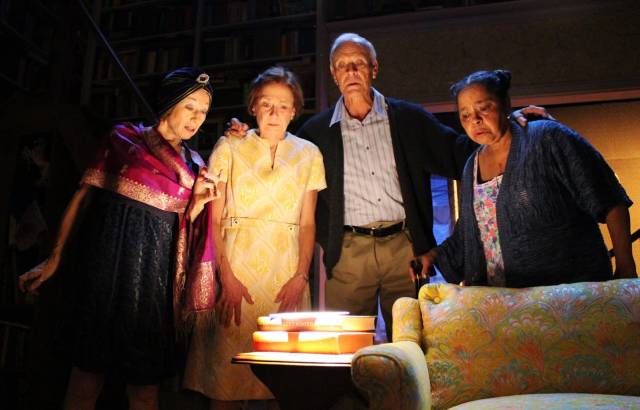 After selling out at the Bucks County Playhouse in Pennsylvania, The Hummingbird's Tour has now begun a limited 5-week run in New York at the Theatre at St. Clement's. This end-of-life comedy from On Your Way Home Productions delves into life, death, and everything in between.
At the top of the show we're immediately introduced to the uniquely wacky characters that will entertain us for the next two hours: three siblings in their 60s, all extremely different, but still close. First we meet Mattie (played by the adorable Susan Pellegrino), a devout Christian who is set in her ways for life. Next is Lucy (played by a fiery Anne O'Sullivan), who has just returned from her latest soul-searching adventure. Finally, we meet Nathan (played by a down-to-earth Ray Baker), a slightly bull-headed academic. Also thrown into the mix is their childhood nanny, Constance, played with skillful comic timing by Lynda Gravatt.
We soon learn that Lucy has brought back a mysterious guest from India who claims to know the future -- and more to the point, their future. The choice to learn the dates of their deaths forces the three siblings to think deeply about the mysteries and meanings of life and death, and how these questions pertain to their relationships with each other. As the show goes on, shenanigan after shenanigan keeps the siblings arguing for their individual beliefs and ways of life.
Playwright Margaret Dulaney does an excellent job of mixing comedy, philosophical notions and relatable family drama into one story. There was the occasional one liner that didn't quite land with the audience, but the general tone of humor flowed well throughout the story. Director John Augustine does good work bringing out the extremely humanistic qualities of these characters. The actors not only work well as a team, but seem to work with the audience as well to find the answers their characters seek. The set design by Sheryl Liu is also worth special mention: Featuring mismatched furniture, a wall of books, and plenty of knick-knacks, it creates a cozy feeling. I felt like I was walking into my own grandmother's house.
Anyone who has ever questioned what happens when we die, or has questioned their meaning on earth, will find a way to relate to this crazy cast of characters. The Hummingbird's Tour will remind you that life is for living - an important thing for us to remember.