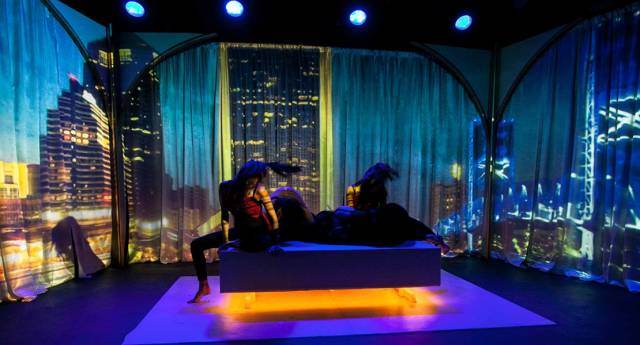 Since we've already reviewed Cast 1 of Romeo and Juliet, in this review we'll omit the choice of setting, projections as well as the dances because they are kept exactly the same. See that review here:
Instead, what this reviewer will focus on is the actors and their performances, which is a testament to how much actors can change the tone and verve of a performance. All this is basically leading me to say that despite the same dances (and in many cases dancers), sets, projections and costumes (mostly), Hypokrit's Romeo and Juliet Cast 2 is an entirely different production.
The obvious differences first: a) Mercutio is male, not female as we see in Cast 1. B) Benvolio is female (and from what I could tell, also in love in Romeo). C) Lady and Lord Capulet are Juliet's parents – not so in Cast 1 where the lady is Juliets sister. But what ultimately makes Cast 2 so different is the actors' approach.
Let's begin with the lead pair – Brent White as Romeo and Brinda Dixit as Juliet remind us of the traditional productions of Romeo and Juliet where young and passionate lovers must grapple with fate. White's disarming Romeo is a welcome compliment to Dixit's Juliet, who proclaims every line with attitude and confidence, akin to a rebellious teenager. Dixit's Juliet is so fiery, that one almost believes that Juliet's leading the romance. The chemistry between the pair works as hapless Romeo stumbles through falling in love unless Juliet's assured presence is there to comfort him. Dixit is also an exceptional dancer, capturing the coyness of the Bollywood heroine with ease.
Romeo's confidence also shines through in his scenes with Mercutio, played with energy and enthusiasm by Deaon Griffin-Pressley and a quiet Benvolio played as a goody-two-shoe by Nikita Chaudhry (who particularly shines in the dance numbers). The camaraderie between the three actors is infectious and their scenes together are quite enjoyable. In particular, Deaon Griffin-Pressley gives a commanding performance, possessing both raw energy and dramatic restraint.
The real comic star of the play is Monique Sanchez, whose plays Nurse, not as an old caretaker, but as a young confidante who incites laughter through verse play and physical comedy in every scene. Sanchez brings life to the stage with her bright and cheerful energy. Other notable performances include De'Andre Baker whose Lord Capulet is consistently intense and powerful (he plays the same character in Cast 1) and Eusebio Arenas' inventive take as an indifferent to out of control Prince (he plays the same character in Cast 1). David Wallace tightly wound up turn as Tybalt is as close to infusing Delhi's dynamics into the performance as anyone comes. While he keeps Tybalt's temper, he also lends the character a much-needed reason for what is usually construed as meaningless rage.
That being said, it's in the second half that the performances falter, with grief and tragedy not ringing as believable as the comedy and congeniality of the first half. Where the script is condensed, the actors flounder, not sure how to proceed through the music cues without losing the rhythm of the story. It's hard to find a sense of Delhi beyond the set and costumes and the actors stick close to the traditional interpretations of the verse.
However, it's a young, dynamic cast that brings passion and clarity to the verse and even though the cast doesn't push the envelope really, together, they deliver a vibrant production that embraces the marriage of Bollywood and Shakespeare.