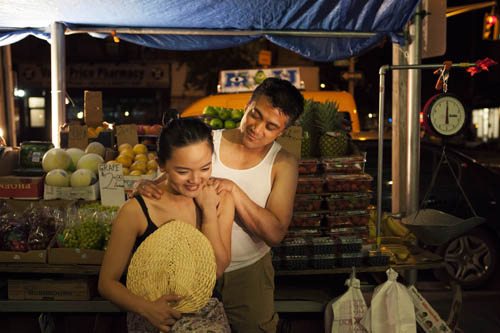 "I Am a Moon," is a dark comedy about the difficulty of interacting with each other and ourselves. Through a small, disparate cast, director Marios Theocharous uses writer Zhu Yi's long and powerful monologues and sparing dialogues to focus on the demons and insecurities we all face, and the faulty logic we use to protect ourselves. Funny, haunting, and infinitely powerful, "I Am a Moon," will spark something in you even if you don't obsess over dead pornstars, or have a body covered in hickeys.
All the characters struggle with feelings of isolation and dissatisfaction, but deal with them very differently. The only people in the play who seem moderately happy are Jimmy (Ariel Estrada) and his wife Mei (Wei-Yi Lin), and even they have settled for running a fruit stand despite their degrees and intelligence. Throughout the play, we hear interspersed scenes of a wealthy, corporate astronaut heading to the moon, all whilst being interviewed remotely by an enthusiastic reporter. Eventually it becomes clear that this astronaut is Jimmy and Mei's son in the future, and these parallel storylines are the silver lining that balances the darker aspects of the play.
At times, it seems the main focus of the play is an overweight woman named Angela (Victoria Tucci). Her struggles with her weight and suffocating shyness have led her into a voyeuristic nightmare in which her pleasures come solely from spying, shopping for food, and playing with her electrical devices. When we first see her, she's been spying on the obsessive masturbation of her neighbor, whose simply known as "The Man" (Kurt Uy). Uy's character has a deep fixation on a deceased Japanese porn star (the play was partially inspired by real life porn actress Ai Iijima), and his life revolves around masturbating to his mental image of her in front of his curtainless windows. Angela in turn becomes obsessed with watching this play out daily, and although she sees "The Man" in their building's elevator constantly, she finds herself repeatedly unable to speak to him. What would she say, she wonders, "Hi, I saw you masturbate, nice work." Eventually she works up the nerve to deliver that line to him, with hilariously disastrous results. Tucci's portrayal of Angela is impassioned, sorrowful, and all too real. She loves to watch people, she says, because she's, "getting close without taking any risk."
Angela also runs into her pop star crush, a closeted gay man named Justin Wilson (Seth Moore). Wilson is the least aware and most unintentionally hilarious of the cast, sincerely saying to Angel in his first appearance, "we pop stars also suffer in life." Wilson's body is covered in hickeys from his secret actor lover, who abandons him constantly, leading him to suck on his own arms to compensate. His days consist of staring at himself, fighting with the paparazzi, and desperately trying in vain to distract himself from his overwhelming insecurities.
The play ends much as it started, with the only true conclusion being offered through the astronaut interludes. It's a wonderful, laugh out loud play about how the people, things, and activities humans use to distract and block their feelings end up stunting and destroying them. "I Am a Moon," is playing at the Lynn Redgrave Theater (45 Bleecker Street) on August 15th at 9:30PM, and August 16th at 7PM. Don't miss it!
For the full listing, go here: https://stagebuddy.com/listingdetail.php?lid=14155