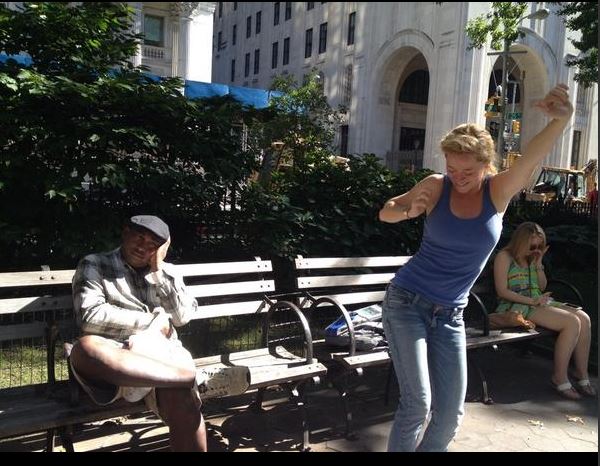 I Am Me, playing through October 13th throughout New York, is a site un-specific one-woman show, animating the writing of Russian playwright Alexandra Chichkanova. Conceived and performed by Nicole Kontolefa, who studied acting at Studio Six in Moscow, this production of I Am Me marks the first of Chichkanova's works to be performed outside of Russia and in a language other than Russian. The play, simply put, is a monologue—one individual's musings on identity, space, and experience. Kontolefa, however, invites each viewer into a 45-minute immersive experience. There are no seats and no directions, yet she makes clear that all you need to do is follow her lead. Grounded and effusive, she takes you on a walking tour through space and thought.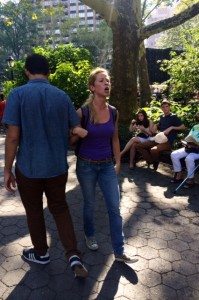 Though she has performed the play in Russian and English, Moscow and New York, Kontolefa tailored to the Madison Square venue I attended. She transforms a public park into her set, and makes pedestrians, dogs, and trees seem strategically placed. She acts on impulse to use each chance encounter as an opportunity to make the text speak to the present moment. While a site-specific piece comments on the surrounding space and is created for one venue, this site un-specific play functions meaningfully in any public space. Kontolefa is scheduled to perform I Am Me in Central Park, Prospect Park, and Brighton Beach over the course of the next three weekends.
The most palpable feeling about my experience at I Am Me was one of refreshment. I left with a distinctive buoyancy and confidence with which to continue the tasks of my day. I found inspiration in the production's intimacy, minimalism, and do-it-yourself attitude. With only a monologue, a backpack, and practical jeans and t-shirt costuming, Kontolefa created something memorable. Never confrontational or uncomfortable, she manages to include each audience member in her experience. Perhaps through a moment of eye contact, a touch on the shoulder, a dance, or a game, she sees you, and allows you to see her. Nicole Kontolefa is a captivating performer who seems to live by the title of her current play I Am Me.
To learn more about this project and or to purchase tickets for a venue near you, visit: https://www.youmeandyourfriend.com