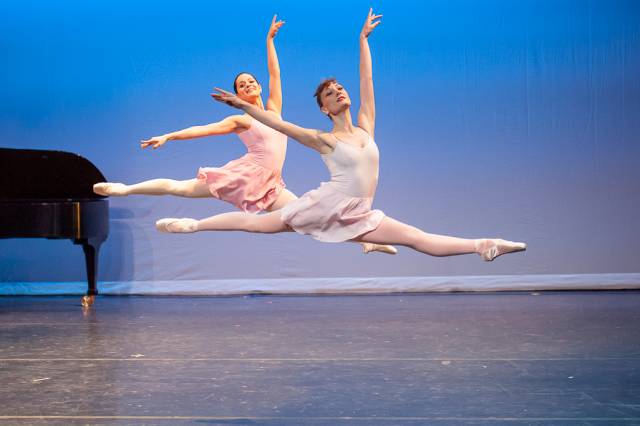 Legends & Visionaries, The New York Theatre Ballet program which played this weekend at the 92Y, gave viewers a taste of the old and the new in the world of ballet. On the legendary side: Jerome Robbins and the Romeo and Juliet pas de deux. On the visionary side: contemporary ballet works by Pam Tanowitz, Richard Alston, and Matthew Neenan.
The program opened with Tanowitz's Short Memory, created on NYTB in 2013. Tanowitz has an eye for the almost. Throughout Short Memory, one recognize balletic shapes and steps that are almost familiar — a pas de bourrée with a flexed foot, an arabesque with the head down, a press lift with the woman's standing leg left in plié. Pianist Michael Scales plays Lou Harrison's Reel with vigor, at one point standing to strum the piano's strings like a guitar. In a joyous moment, dancer Steven Melendez leads violinist Pauline Kim Harris on stage as if she is his Sugar Plum Fairy. But instead of a pirouette, Harris lifts her bow and begins a whirlwind composition by Henry Cowell. Like the music, the dance contains patterns one can't quite track, yet one can feel Tanowitz's internal logic. Like a clock ticking in something other than seconds, it makes the right amount of nonsense.
A Rugged Flourish portrays, in choreographer Richard Alston's words, "a young hero's courage and determination—strong enough to be alone, yet all the stronger for eventually accepting company". The hero here is Steven Melendez, a standout performer with buoyant jumps and compelling eyes.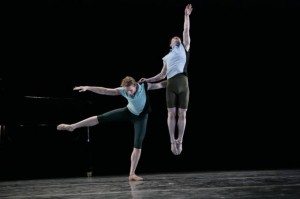 Rondo (1980), the Jerome Robbins work set to Mozart's Rondo in A Minor, was the real legend in Legends & Visionaries. This female duet features Mayu Oguri and Amanda Treiber. Both women possess technical clarity and bring a spritely playfulness to the work. Essential to Jerome Robbins' legend is his ability to collaborate with the music of his dances. It is a joy to witness this skill up close in Rondo, as Oguri and Treiber display the rhythm and counterpoint of the music.
The program closes with Matthew Neenan's Game Two (2008), accompanied by a whimsical Bizet piano duo played live by Michael Scales and Zheng Ma. Neenan's work takes on a light and refreshing tone with standout solos by Choong Hoon Lee and Elena Zahlman.
Be sure to catch NYTB at The Dance Gallery January 23-24 and February 27-28, or at New York Live Arts February 18-21.