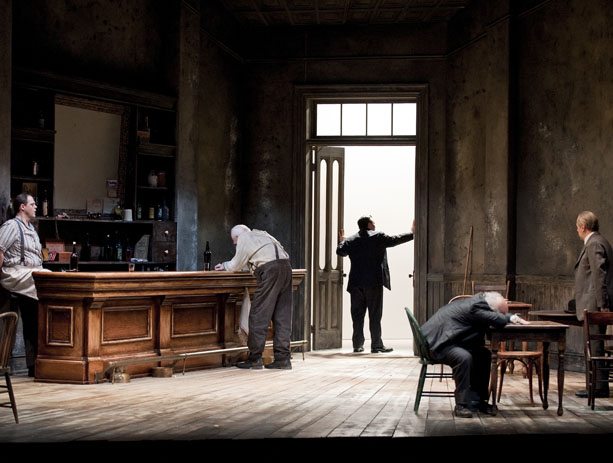 As a theater critic I have seen work that has surprised, confounded, amazed, and delighted me, but never before have I been quite as humbled as I was in the face of the epic - and clocking in at close to five hours including intermissions, it does feel like embarking on a journey - performance of The Iceman Cometh, now onstage at the BAM's Harvey Theater.
If you may allow me a rather hyperbolic metaphor, though perhaps it isn't too far of a stretch for those who live and breathe theater; attending an O'Neill production helmed by director Robert Falls is like seeking out the most renowned surgeon in the country if in need of a heart transplant. A leading O'Neill aficionado, Falls has dedicated a solid portion of his storied career interpreting and celebrating one of, if not the largest and most intimidating figures in American theater. This production of Iceman comes intact with the full cast from Fall's Goodman Theater in Chicago, where it was a box office smash and received an extended run in 2012. Now, three years later, it has made its way to New York City, where the play first premiered in 1946.
Set in 1912, though if not for a few dated references and whiskey that costs a mere nickel it could take place tomorrow, The Iceman Cometh finds us in the grimey backroom of Harry Hope's West Village Bar and Rooming House, a shaky New York City tenement that houses a variety of men long past their prime and long overdue on rent, content to drink to oblivion, pass out, and repeat. The play opens on just such a scene, the motley hard-luck crew passed out at tables around the bar. Only this day, as they awake in the wee hours to their usual routine, they finally have something to look forward to: the arrival of their old pal Thomas "Hickey" Hickman, harbinger of light and excitement, financier of a yearly, roaring bender for the inhabitants of Hope's tavern in honor of the proprietor's (played with a gruff but likeable brogue by Stephen Ouimette) birthday.
Nathan Lane makes a star turn as the fast-talking, instantly likable salesman, able to capture his celebrity in a unique and remarkable way; the audience is as excited to see the comic actor as the boys are, delighted as he throws money into the air to start the party, and then, equally perplexed and ill at ease when the facade slips, and it become clear that this year Hickey seems to bring only darkness.
Lit in a dramatic chiaroscuro courtesy of a stunning lighting design by Natasha Katz, every single moment of the play is so beautifully and precisely staged (set design by Kevin Depinet as inspired by John Conklin) it could be captured as a painting. The ensemble cast, a whopping 18 actors deep, might be barflys and mere background color to a lesser playwright and less capable thespians; here, all characters are acted with a ferocious, adept intensity and depth, remarkably memorable and able to capture the complete attention of an audience.  There's Joe Mott (John Douglas Thompson) and his plans to recapture the riches of his once successful gambling business; Willie Oban (John Hoogenakker), who will overcome the shakes of Delirium Tremens to once more show promise as a Harvard educated lawyer; "Jimmy Tomorrow" (James Harms), who will march down to his old office and once more work as a journalist; Cora (Kate Arrington), the streetwalker who will put the life behind her and get married; the list goes on.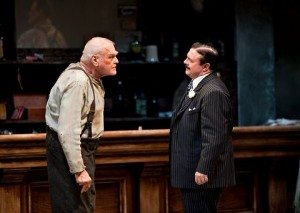 As the one character who seems to comprehend more, exist between the light and the dark and see beyond black and white, which may in truth be more curse than blessing, Larry Slade is portrayed with great, terrible humanity Brian Denehey. Denehey, a long time collaborator with Falls and equally as taken with O'Neill, played the role of Hickey in 1990, and now in an awesome collision of talent and kismet, has aged perfectly into the role of the world-weary soul, frightened of dying but just as frightened of living, a fearsome voice of wisdom in a place that is sorely out of touch.
For a play of such rare caliber, there is no critique, only admiration. Indeed, it seems impossible to me that anyone who is a lover of theater, of art, of expression, anyone who is a searcher of knowledge or parser of the 'eternal what,' could not fall equally reverent before the monolithic production that is The Iceman Cometh, and come out feeling somehow changed by the disquieting, disturbing, undeniably brilliant bulwark of the American stage.