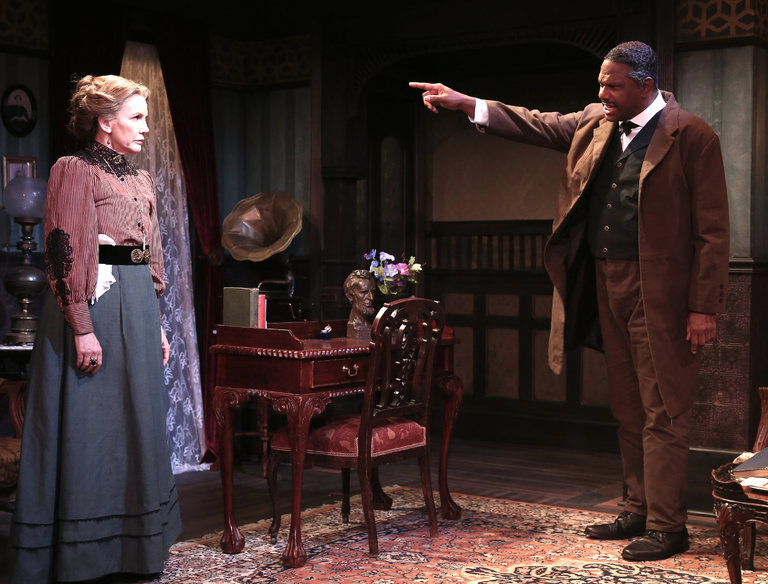 Thomas Klingenstein's play If Only..., directed by Christopher McElroen at the Cherry Lane Theatre, is a moving depiction of the relationship between a white woman and a black man whose matchmaker was Abraham Lincoln. Set in New York in 1901, If Only... sees the two friends and almost lovers suddenly reunited 36 years after Lincoln's assassination and the end of the Civil War.
Ann Astorcott (Melissa Gilbert) has settled down with a wealthy man who works in the stock market (played by Richmond Hoxie), though she's not exactly sure what he does. In her younger days -- "Bohemian" as her husband refers to them -- Ann was a Civil War nurse and friend of Lincoln. She did crazy things like pose in the nude for a painting and take a black friend to the opera. Now, she's left all that behind her, with occasional relapses: she adopts a young orphan girl (Korinne Tetlow), she listens to ragtime music, and she fantasizes about redecorating her parlor in an exotic, Romantic style.
Samuel Johnson (Mark Kenneth Smaltz) has become a history teacher in Chicago. In his younger days, he ran away from his master's plantation, became President Lincoln's valet, and fought in the Civil War as part of the 54th Massachusetts Regiment (one of the first black regiments in the U.S. military). When he was wounded, he came under Ann Astorcott's care and fell in love with her, but lacked the confidence to tell her so. Meanwhile, Ann fell in love with Samuel and apparently dropped many hints -- but in the end, due to communication failures on both sides, the two young people parted ways.
Now, 36 years later, Ann has invited Samuel to visit her, though neither of them seems to know why. What follows is an emotional night drawing heavily on the past, unspoken words, and Abraham Lincoln -- the invisible fifth character in If Only...
As Ann Astorcott, Melissa Gilbert is charming, though sometimes (appropriately) a little infuriating, showing her characteristic vivacity and spark. But Mark Kenneth Smaltz's Samuel Johnson anchors the piece with his emotional gravity and strong, understated acting.
Klingenstein's script is poetic and clever, if a little forced in parts. Ann comes across as a bit of a Nora Helmer character, though probably more endearing, and there are a few metaphors that feel almost painfully obvious - such as the butterfly collection maintained by Ann's husband, who insists on their wings being pinned back. For all of that, the script frequently succeeds in being warm and emotionally resonant, as well as relevant. When Ann reads Samuel's observation that, with the death of Lincoln, it's doubtful whether interracial love and understanding will long survive, the remark bursts with layers of meaning.
Billed as "a love story," If Only... begs us to listen, to speak, and to love -- rather than succumb to the inevitable wish for what might have been.