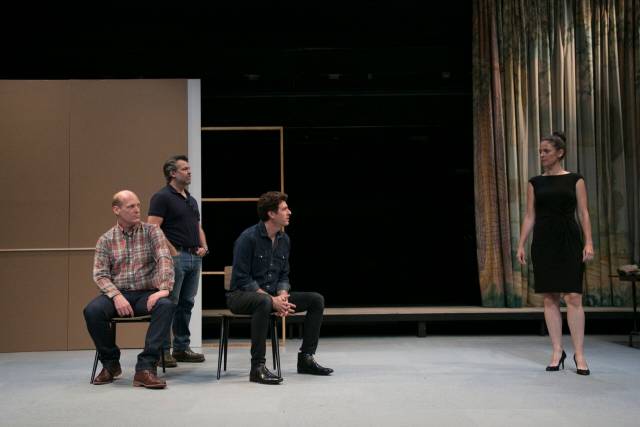 It is rare in theater these days that you feel enthralled by the pull of auteur. Though Theatre for a New Audience's presentation of New York City Players' Isolde may at first feel like a tough fit, somehow awkward or strained, take comfort in the knowledge that you are seeing a world conceived of and commanded by the critically heralded Richard Maxwell. Isolde has been staged at Theater Basel and in France, as well as at Abrons Art Center last year; the cast is comprised of Maxwell's long-time collaborators, Gary Wilmes and Jim Fletcher, who were with Maxwell when he began his first theater company in 1990, and Tory Vasquez, his wife. Onstage now at the Polonsky Shakespeare Center, this is the play in its sharpest, most well oiled incarnation.
Inspired by ancient legend of Tristan and Isolde, the play's titular Isolde is a star actress, unsure about the future of her career due to sudden, extreme memory loss that's making it difficult to remember her lines. Her husband, Patrick (Jim Fletcher), is a brusque, straight-shooting contractor, who likes football and spoiling his wife, but who is finding it difficult to relinquish control when he agrees to finance her dream house. To execute her ideal home, Isolde (Tory Vasquez) hires Massimo (Gary Wilmes), a rockstar architect who is handsome and confident, but seems to be focused more on speaking poetically about his process than on actually executing a design. When he falls in love with Isolde and the two begin a passionate affair, still, nothing gets built.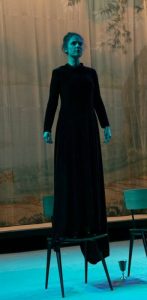 Though, like the bare, brown foundation walls that make up the set, the dialogue is remarkably and almost unsettlingly sparse, the stylistic power of the spaces in between the words and of the words are as invisibly evocative as the house Isolde dreams. The actors talk, but rarely seem to understand each other, and more often than not conversation fails: "good, thanks," comically butts against a question of "what's up?" The players wrestle with big emotions and big ideas, but remain emotionlessly affected with their speech. "I hear you, but I don't understand what you mean," Patrick tells Massimo. Like Massimo's poetic ideations that are ultimately impossible to realize, perhaps Isolde suggests that what we are unable to express with words is often frighteningly monumental in comparison to our interior lives and the words to which we can't give voice.
The narrative unfolds in a series of loose vignettes marked by this manner of dialogue alongside certain moments that feel viscerally, immediately real, such as when Isolde and Massimo make love in full view. This aesthetic, for which Maxwell is heralded as a champion of experimental theater, somehow lets, as TFANA's Artistic Director Jeffrey Horowitz suggests, "a fuller, more complex sense of reality emerge."
And indeed, through his bending of reality, Maxwell and his actors create characters that -- even in their surreality -- ooze humanity and beg empathy with the nod of a head or a carefully emphasized silence.
"Spend time with Isolde, she'll teach you," Patrick tells Massimo, and tells us. Perceiving weakness, the men are drawn in by the prospect of owning and controlling her, but ultimately they end up deeply under her spell, and neither Massimo's offer of beautifully worded, impossible dreams nor Patrick's stable life of concrete plans and functional realities can come close to fulfilling her, or perhaps more importantly, healing her.