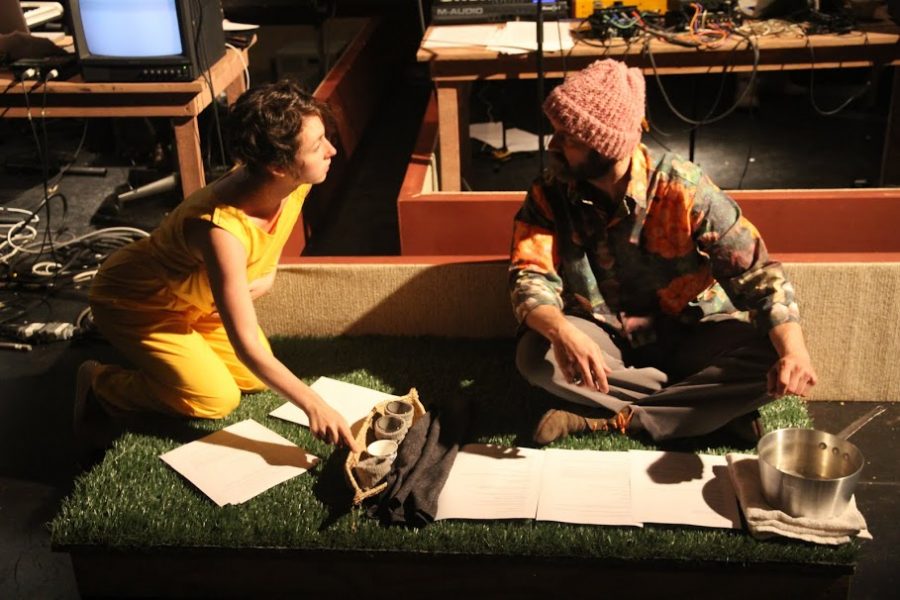 Katorga; An Ozet Performance is the new production at St. Mark's Church and the last Incubator Arts Project to be held at St. Mark's. And for a farewell, this show goes out with a very interesting bang.
Katorga is an experience. It is a non-traditional show, in the sense that there is very little dialogue, very loose scenery and a story that is quite difficult to follow. It is a Twilight Zone-esque dystopian musical that follows a woman trapped in a prison who must pick mushrooms on an asteroid in a concentration-camp gulag on an asteroid passing the sun.
If you are not into contemporary art nor having trumpets blare in your face in an air-conditionless room while screens flash time-lapse clips of butterflies, this play might not be for you. Although the musicians who perform these numbers, with titles such as "The Pioneer" and "The Conspirators," are clearly musically gifted, the plot is so odd and difficult to ascertain that it is not enjoyable.
Becky Baumwoll plays The Woman, a wide-eyed rebel who spends most of her time in a white box reading garbled letters to the audience or communicating to her fellow insurgents. While getting yelled at as she collected sticks in the maze of wood chips the audience too had to walk through to get to their seats, she snaps and runs away. When she finds another prisoner (Daniel Baker) hiding out in the forest, she regains her humanity through telling him her plight and drinks tea he hands out to her so "she wouldn't have to steal."
The minds of Aaron Meicht, Scott Blumenthal and Daniel Baker clearly have a lot of innovative imagination, but this production is one that I would not recommend.