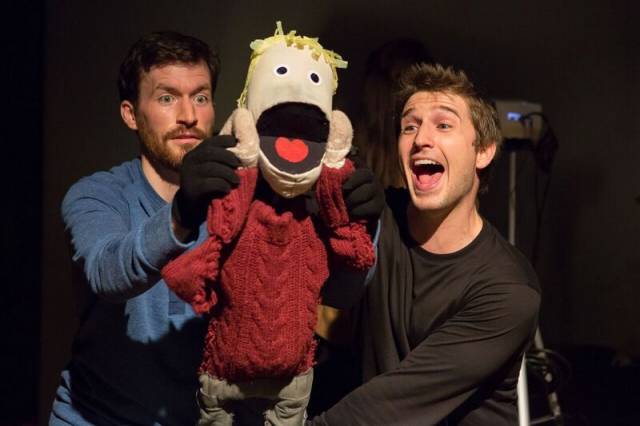 Recent Cutbacks has paid homage to Jurassic Park (Hold On To Your Butts) and The Lord of the Rings (Fly, You Fools!) with their parody remakes. But they have reached the pinnacle of exclamation point '90s pop culture with their latest, KEVIN!!!!!, a take on the holiday classic Home Alone, this time with puppets.
Nick Abeel, Sonia Mena, Natalie Rich and Kyle Schaefer give life and voice to the dozens of characters from the movie to tell the story of precocious eight-year-old Kevin McCallister and his rambunctious solo takedown of two house robbers. This is accomplished through an elaborate series of different types of puppets, mobile sets, props and cameras. Their tightly arranged choreography, under the direction of Kristin McCarthy Parker, allows them to go quickly from scene-to-scene and their use of cameras to project those scenes is impressive.
To help bring the film to life on stage, Recent Cutbacks has enlisted a choir to sing arrangements of the John Williams score as well as the many Christmas carols that are sprinkled throughout the film (music arranged by Kelsey Didion). Choir members Sarah Godwin, Evan Maltby, Richard Sears and Michelle Vo do a great job of making it feel as though you are actually watching a condensed version of the movie. Even if you go for the singing alone, it will be well worth the price of a ticket.
But back to the antics, of which there are many. Of course, some scenes had to be cut (they jokingly refer to one scene being cut to make sure the show is under an hour) but the main gist is still there. You have the chaos of the first scene, where Kevin gets ragged on by so many family members, he finally explodes and is sent up to the attic. Then the flurry of confusion the following morning when they realize they've slept in and have to rush to the airport. Then the realization by both Kevin and his mother that he's been left alone. All are so realistic, you almost forget you're watching puppets (in some cases the actors play people).
Then you see thieves Harry and Marv casing the house, Mrs. McCallister desperately trying to make her way home to her son, and Kevin running wild without adult supervision, finding out these guys are trying to rob him and eventually setting up the house to trap them. In between, you get the same heartfelt scenes from the original...just slightly tongue-in-cheek. There's Old Man Marley confiding in Kevin at the church about his falling out with his son, and the reunion of Kevin with his family. But mostly it's laugh-out-loud funny all the way through, especially when Abeel does the famous Macaulay Culkin screams.
Fans of Home Alone are going to get a kick out of KEVIN!!!!! Take your friends, take your significant other, take your mom. Head over to the PIT and start your holiday season right.