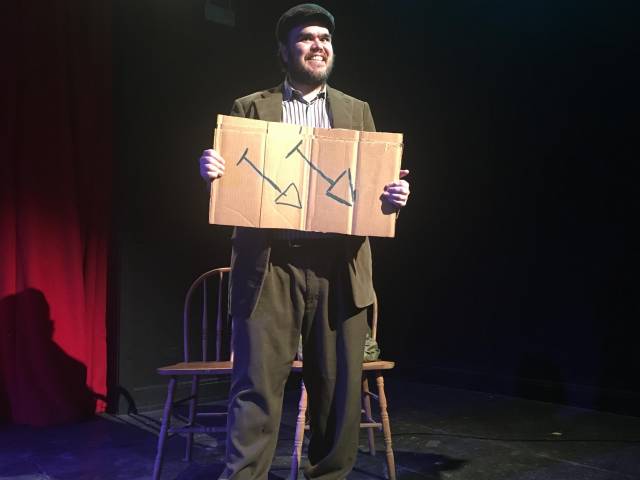 Have you ever attended a hobo funeral? Well, I have. Or at least by watching writer and composer Jara Jones' solo folk-rock musical, King of the Hobos, I have an idea of what it might be like. Jones plays Gilly, an Alabama-born hobo who put together a memorial for his recently departed buddy, James Eads How, who in real life was known as the "Millionaire Hobo." Heir to a wealthy St. Louis family, How gave up his claims to his family's riches to live as a hobo and activist, advocating for homeless migrant workers.
The charismatic Gilly pays tribute to How on his homemade cigar-box guitar, using his voice beautifully to convey the emotion he feels toward the loss of his friend, and the glee he gets in talking about hobos. You see, Gilly is proud to be a hobo and he takes the time to carefully explain this kind of life. Neither tramps nor bums, hobos follow a much nobler tradition of doing hard labor to earn their keep, riding the rails with one eye on the scenery and the other on their shoes. They do it for the love of the freedom, not because they can't get by otherwise.
Kudos to Jones for taking on a deep southern accent and to director Abigail Taylor-Sansom for staging the play in an actual church (the Upstairs Theater at St Paul's Lutheran Church in Williamsburg), giving it a real Depression-era temperance hall feel. Jones also integrates the audience into his performance, talking to various people as though they are actual fellow funeral goers, making it an immersive experience.
As for the music, Jones' rich voice is a nice complement to his very interesting guitar, and the original songs are a great way to carry the narrative forward. There is a nice balance between ballads and more upbeat folk-rock songs.
As an experience, King of the Hobos is a unique one in that I can't say I'll ever attend a funeral for a hobo. But if you're a lover of travel and Americana, and are in tune with the plight of the homeless, this is a show you may enjoy.