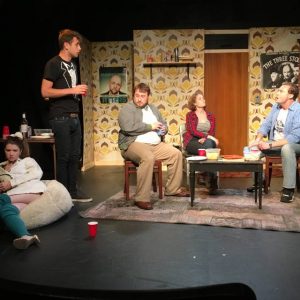 Playwright J. B. Heaps does theater the old-fashioned way: from the heart. He takes a subject that inspires him, builds a world for it and then shares it with others. From the inception of his idea to the moment he is greeting his audience at the theater door, Heaps lays bare this thing that he loves.  He doesn't have to either. He is, after all, an Emmy-Award winning producer for Showtime Networks.
In his latest play, The Koan of Seymour, Heaps tells us the story of Seymour Fitzgerald Payne (Eric Pargac), a fictional character who is an amalgamation of all those great and elusive comedians from the past. Following his death, the friends of Payne all gather in one of their dingy apartments to celebrate his life. A strange woman (played by Mary Linehan), who is a stripper, arrives out of the blue, with a quality that puts everyone on edge. Did Payne really die and if so, is this woman part of him? She carries the same elusive quality seen in Payne. Or, maybe I'm reading this all wrong. The truth is, so much of the plot is left, brilliantly, to the imagination that one never really knows anything: Is Seymour Payne real? Is this stripper real? Am I real? What does 'real' even mean?
Heaps' character Seymour Fitzgerald Payne is a comic/performance artist whose own life is blurred between the stage and reality. Portrayed by Pargac, Seymour Payne is a darkly seductive entertainer. His threatening influence is most clear to us when he hypnotizes a sweet, bubbly female audience member who then later reappears in the play as the stripper. All due props to Linehan for these stark and brave contrasts.
In the characters of Seymour's fellow comics and close friends, Brandon (Matthew Stuart Jackson), Berger (Andrew Gombas), Markie (Elise Williams) and Roddy (Cory Lawson), any comic-loving audience member can recognize the real-life comics these characters may be based on. Thanks to spot-on casting on the part of director Justin Bennet and solid acting by Jackson, Gombas, Williams and Lawson, one feels like real life comics are onstage under the guise of different names. Costumer designer Anna Winter certainly helps in this. Getting right the modern-day street attire of a stand-up comic is actually not easy, but Winter clearly understands the subtle choices a stand-up comic makes in his attire and has in no way clothed her actors haphazardly. Bravo for such care to subtle details.
Heaps' mystical look at life can and should be met with an equally mystical quality of stage design. Set designer Anthony Freitas briefly plays with a peeling-away of layers of reality in the beginning of the play. One only wishes this pattern wouldn't end. The exact moment that a set design turns literal is the exact moment our imaginations stop playing. Lighting design by Yi-Chung Chen complements the ultimate choice of realism in the set with a calm and bright stage.
Bennet, as director, would do his actors a favor by remaining a bit strict with pacing and caution towards energy-deflating physicality. There's an awful lot of sitting/slumping in chairs, which causes their speech to slow, giving way to the dastardly 'pregnant pauses' that can sap an audience's energy.
The Koan of Seymour attempts to honor one of the highest, most daring and most delicate art forms: the art of stand-up comedy. Perhaps in future stages of this play, one may have the chance to spend more time with this elusive character, Seymour. Such artists as he is based on deserve an even deeper appreciation for risking it all and gaining so little.